404 Page Not Found

Don't Worry, You Can Still Get Your Talent Request Started!


To get immediate response with fees and availability the speaker or entertainer
that you're looking for, kindly submit a form by clicking the green button.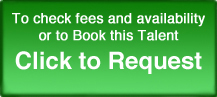 Or call 1-800-345-5607
The speaker/entertainer you are looking for is in our extensive database. In addition, our world-wide contacts gives us access to ALL available keynote speakers, sports related speakers, celebrity speakers, and entertainers.
Our committment is to provide you with personal service to help you
select and present the most appropriate speakers and entertainment for your specific audience.

the Team at Eagles Talent Speakers Bureau