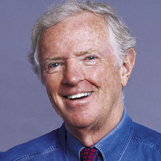 Chris Crowley
Author of the Younger Next Year Books
Fee Range: Notes on Fees



$10,001-$15,000



Program Type



- Keynote Speaking

Traveling From:



New York


Topics
Aging
Generational Diversity
Bio
Chris Crowley is the co-author (with leading New York internist, Harry Lodge M.D.) of Younger Next Year, a New York Times best selling guide to "living like fifty until you're eighty and beyond." And of the successful, follow-on book, Younger Next Year for Women. With over a quarter
» Read Full Bio
Speaker Programs
The Science-Based Revolution in Behavior and the Revolution In Health, Fitness and Aging.
"Make core changes in behavior and avoid 50% of all serious illness completely (heart disease, most cancers, diabetes and others) ... and put off 70% of aging until the very end of life."

Corporate Wellness and The Revolution in Behavior.
"Bringing the Revolution in Behavior to executives and employees should be "True North" for well run companies. It changes everything."
For booking or speaking fees, performance fees,
appearances, and availability, or to BOOK THIS TALENT,
please call us at 1-800-345-5607.