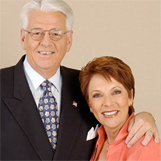 Fee Range:

Call for Fee




Traveling From:

Florida


Check Availability
Submit your request or call us at 1-800-345-5607
We guarantee a response time of one business day, or sooner.
Ken and Daria Dolan

America's First Family of Finance
Why Book The Dolans?


Known as "The First Family of Finance" they guide audiences on financial matters - investing, retirement planning, funding college, credit issues, real estate, estate planning and more.
The Dolans were awarded the four-star rating for financial broadcasting excellence by Newsweek, the only four-star rating ever awarded by the magazine
Biography of Ken and Daria Dolan
The Dolans are nationally recognized personal financial experts and the ONLY husband and wife radio and television team who have more than 40 years of experience with all things money.
Among America's most popular radio talk show hosts for more than 20 years, the Dolans were consistently rated by TALKERS Magazine as one of the "Top Ten Most-Listened-To Shows in America."
They hosted a weekly nationally syndicated radio show on THE WOR RADIO NETWORK…heard in New York City on WOR Radio and on nearly 200 radio stations across North America and Hawaii.
TALKERS Magazine also named the Dolans to their HEAVY HUNDRED: The Most Important Talk Show Hosts of All Time list.
The Dolans also hosted DOLANS UNSCRIPTED, a weekly national television show that aired to more than 85,000,000 homes on CNN on Saturday morning at 10am ET.
They have been awarded the only four-star rating for financial broadcasting excellence by NEWSWEEK magazine and are members of VANITY FAIR magazine's Radio Hall of Fame.
The Dolans are authors of six books on personal finance including their latest, DON'T MESS WITH MY MONEY.
In addition to their radio and television shows and books, Ken and Daria Dolan are in demand as keynote speakers and as guests on and contributors to a host of national publications and television programs.
Ken and Daria partnered with READER'S DIGEST to create a series of Family Money Matters special advertising sections for the Family Plus edition of READER'S DIGEST.
The Dolans are also former columnists for MONEY magazine. Among their substantial television credits, the Dolans have been contributors on CBS THIS MORNING and CBS NEWS SATURDAY MORNING, hosts of their own daily television show, SMART MONEY on CNBC for four years and guests on WALL STREET WEEK, THE TODAY SHOW, THE NBC NIGHTLY NEWS WITH TOM BROKAW and LIVE WITH REGIS AND KATHIE LEE.
With their involvement in so many media-related activities and as parents of a daughter, the Dolans have experienced first-hand the constant struggle to keep abreast of new developments in an increasingly complex world.
It is from this point of view that they engagingly relate to their audience on a variety of topics affecting Americans' lives and money, including personal finance, consumer affairs and the latest news headlines.
According to the Dolans, their mission is to deliver clear, concise, trustworthy and actionable information to mainstream America.
With their laid-back, conversational styles, the Dolans not only accomplish their mission, but, as their millions of viewers and listeners will attest, they also put a whole lot of fun into the field of personal finance.
Program Descriptions
No surprises - Ever Again: How to Survive and Thrive During Challenging Times
Although we often fine-tune a program to a client's particular needs…here is a general overview of this very special program. Learn the Dolans' five principles of fool-proof investing in 2012-2013: Maximizing the profits in your retirement plan, Designing an inflation-proof portfolio, Don't outlive your assets, Minimizing your taxes despite Washington's tax greed, and How to find a financial planner whom you can trust.

Baby Boomers Unite
Although the Dolans' program will discuss timely money issues and offer solutions for BOTH men and women boomers and post-boomers, there is no doubt that many of the 30-40 million boomer women will face uncertain financial, health care and housing futures. Consequently, a special emphasis will be put on womens' and couples' issues. Unlike prior generations of women, baby boomer women deal with unique risk factors affecting their financial and retirement futures such as marital instability, single parenting, care giving of relatives, inadequate housing and poor health/disabilities. In addition to these factors, many boomer women still work in conditions where there is widespread salary inequities, age and sex discrimination and inadequate health insurance coverage.