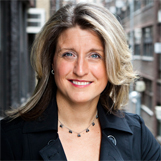 Books

Kill the Company
Lisa Bodell
Innovation and Foresight Expert
Fee Range: Notes on Fees



$30,001-$50,000



Program Type



- Keynote Speaking

Traveling From:



New York


Topics
Change
Business Entrepreneurship
Management
Corporate Culture
Innovation & Creativity
Bio
Lisa Bodell is the founder and CEO of futurethink, an internationally recognized innovation research and training firm that helps businesses embrace change and become world-class innovators. Ms. Bodell founded futurethink on the premise that everyone has the power to innovate—they just need to know how. futurethink has spent
» Read Full Bio
Speaker Programs
Kill the Company: End the Status Quo, Start an Innovation Revolution
Unveil a striking new perspective on how to create the killer culture of tomorrow.

Little BIGS®: How to do LESS for MORE innovation
Learn how small adjustments to everyday work can create big ripple effects and foster innovation throughout the entire organization.

Jump-start Innovation: Leading a Culture of Dynamic Growth and Value-Creation
Discover best practices for innovation problem solving, along with a wealth of tangible, tactical techniques for jump-starting a culture of innovation in your organization immediately.
For booking or speaking fees, performance fees,
appearances, and availability, or to BOOK THIS TALENT,
please call us at 1-800-345-5607.