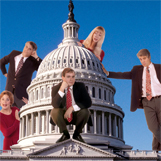 The Capitol Steps
Troupe of Congressional Staffers Turned Comedians
Fee Range: Notes on Fees



Call for Fee



Program Type



- Entertainment for Organizations
- Performance for General Audience

Traveling From:



Virginia


Topics
Political Humor
Revues & Variety Shows
Bio
The Capitol Steps are a troupe of Congressional staffers-turned-comedians who travel the States satirizing the very people and places that once employed them. The Steps perform over 500 shows a year all over the country. Since they began, the Capitol Steps have recorded 23 albums, including their
» Read Full Bio
Speaker Programs
The Lighter Side of Politics
The Capitol Steps' show is rip-roaring political fun. The seven-member cast is a constant transition of new costumes, props, and music. Their political satire song parodies take potshots at the outrageous goings-on in Washington.

Musical Musings
No matter which side of the political fence you're on, you're guaranteed to enjoy The Capitol Steps. Their production is rip-roaring political fun, one constantly updated to reflect today's political headlines, with new costumes, props and music. In no way mean-spirited, their hilarious musical satire takes potshots at the outrageous goings-on in Washington, unafraid to say in public what most of us are thinking!

Equal Opportunity Satire
If you're in the political public eye, look out! The Capitol Steps target issues and personalities in the news right now — picking on Republicans, Democrats and anyone else who deserves it — for an unforgettable entertainment experience.

Live Lampoonery and Recordings
The Capitol Steps perform over 300 shows a year all over the country and frequently appear on television. Over the last 20 years, the group has performed off-broadway and produced 24 recordings, including their latest, Papa's Got a Brand New Baghdad and such ditties as Between Iraq and A Hard Place, Osama Come Out, Tomorrow; Bill's Way; Fools on the Hill; Son of a Bush; One Bush, Two Bush, Old Bush, New Bush; It's Not Over Till the First Lady Sings!; First Lady and the Tramp; Unzippin' My Doo-Dah and more.
For booking or speaking fees, performance fees,
appearances, and availability, or to BOOK THIS TALENT,
please call us at 1-800-345-5607.