Devon Harris is a top motivational speaker and three-time Jamaican Bobsled Team Olympian. He uses his real life stories of perseverance, persistence, and powerful stage presence, to positively impact thousands at Fortune 100 companies, non-profits, governmental organizations, schools, and universities. His authentic and entertaining life story both inspire audiences all over the world, and help push them to reach higher levels of achievement.
It would seem that Devon was destined to be an Olympic champion since he grew up in an area of Kingston, Jamaica called "Olympic Gardens." However, the name wasn't as glamorous as it appeared; it was a very violent and impoverished area. Never-the-less, Devon felt he grew up with a rich mentality for success from his family who implanted self-esteem, courage, and drive. That same drive drove him to graduate from the prestigious Royal Military Academy, Sandhurst, in England in 1985. After college, he received a Queen's Commission and served in the officer corps of the Jamaica Defense Force until December 1992 when he retired as a Captain.
W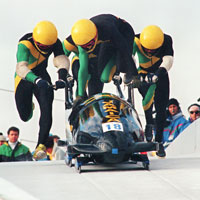 hile serving in the military, Devon was first encouraged by his commanding officer to try out for the first Jamaican bobsled team. The 1988 team's exploits gained worldwide fame, respect, and inspired the Disney blockbuster movie Cool Runnings. Devon also competed in and was captain of the 1992 Winter Olympic Games in Albertville, France, and the 1998 Games in Nagano, Japan. Devon's athletic and academic successes taught him the power of persistence over all of the obstacles life threw his way. By sheer will and hard work, Devon's own positive message of resilience was born: that "dreams are to be non-negotiable."
Devon's new dream was to help others, so in 2006 he started the "Keep On Pushing Foundation," which aims to support and enhance the education of kids in disadvantaged communities around the globe by providing practical solutions to the challenges that are preventing them from getting educated. Devon also works with Right to Play as an athlete ambassador, supporting Right to Play's efforts in using sports and play in refugee camps around the world to enhance child development and build community capacity. He is also an accomplished author of the motivational children's book, Yes, I Can! And the semi-auto-biographical motivational book Keep On Pushing: Hot Lesson From Cool Runnings.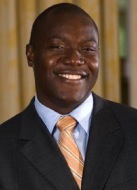 Devon's mission is to spread his heart-felt message of how everyone can keep on pushing for their dreams every day of their professional and personal lives. He uses personal stories of persistence, like months after making the Olympic team; they still didn't have a sponsor. So Devon trained 8 hours a day while delivering pizza's at night until the team was finally sponsored. He kept on pushing himself, and now he can push your audience towards any of their desired goals. He can inspire the rejected salesperson to rediscover their mojo, and help the stumped engineer to find a better solution–or even help the overloaded executive to see a new path forward. He customizes presentations to move, inspire and entertain audiences. His poignant, authentic and entertaining story is a hit for every audience and will inspire them to raise their games to higher levels of achievement.
To check availability and book Devon Harris for your next event:
Call Eagles Talent: 1.800.345.5607
Or click here to visit his keynote speaker profile page.