Billy Riggs is a motivational speaker, illusionist, and comedian with entertaining and educational presentations on sales, leadership, attitude, and performance enhancement. This article is Billy's third and final part of a series on ten principles that will enable you to create an atmosphere of learning that will greatly enhance the effectiveness of your next convention.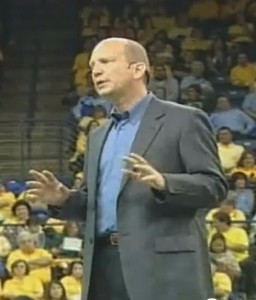 Hype: By hyping your keynote speaker in conference brochures, in conversation, and in public meetings, you will create an air of anticipation that greatly enhances your speaker's ability to connect with their audience immediately. A side benefit is better attendance, as well. One way to help accomplish this goal is to give away a few of the speaker's books, videos, and cassettes in earlier sessions as door prizes. This gives you an excuse to repeatedly mention and "talk-up" upcoming general sessions. A clever technique to add to the energy of the room, I must credit to speaker Tom Antion: have the meeting planner ask the most boisterous, energetic, and enthusiastic people attending your conference to come early and take a seat in the very front row. Their effervescent personalities and eager reactions to the speaker will hopefully permeate your entire crowd.
Elevation: The larger your conference attendance, the higher the platform should be. I find it very frustrating to present to 500 people from a riser that is only twelve-inches tall, because I know that the people in the back rows are far more frustrated than I am. They spend the session craning their necks or contorting their bodies so as to see between the heads and shoulders of those in front of them. A general rule of thumb is to request a riser tall enough that the people in the back row can still see the speaker's waist.
Room Arrangement: One of the first issues addressed by a planner once a venue has been chosen is the actual meeting room and its arrangement.  Should it be theater style or classroom?  Should the rows be straight or in a chevron configuration? For some functions, such as a banquet, the function dictates the form. But for most events, this option is left open to the meeting planner. After delivering well over a thousand presentations, I have developed some very firm beliefs about proper seating arrangements, which I have distilled into a few basic guidelines:
1) General sessions should be conducted without tables, when possible. In all-day events, which are content-heavy and involve lots of note taking, a classroom set-up may be needed.  This arrangement allows for water pitchers, pens, notepads, and candy dishes to be made readily available to each attendee. However, tables have a negative effect on conferences that is not always outweighed by their advantages. The presence of tables in the room forces the audience to be spread across an area at least three times larger (even more with round tables) than they would occupy in a theater-style arrangement. It is my theory that communication effectiveness generally decreases exponentially as the distance between the platform and the listener increases. Tables force the back row of conferees much further from the speaker, and therefore should be avoided whenever feasible.
2) Audience energy is maximized when attendees can see each other's faces. All of us engage in bizarre rituals each day without ever being consciously aware of them, one of which takes place each time we laugh in the presence of other people. Somewhere in the reptilian core of our cerebellum is encoded a protocol which dictates that our laughter must be followed by eye contact with another person. When placed in straight rows, people laugh less enthusiastically because of the awkwardness of making eye contact with someone who is at a ninety-degree angle and only inches away. However, when placed in a chevron, or even a semicircle, each audience member can see the faces of many other people without effort. The transfiguration of an otherwise stodgy crowd that takes place when they are facing one another is nothing short of amazing.
3) Audience reaction is best when people are packed tightly together. I have often said that I would much rather speak to fifty people in a room set-up to accommodate forty, than to speak to a thousand people in a room set for five thousand. This is because a mysterious dynamic overwhelms a sparsely populated room, placing a damper on the entire event. Jokes that would normally bring the house down elicit only muffled chuckles. Powerful points seem to bounce off scattered audience members like rocks skipping across the surface of a lake. There is a palpable lack of energy in such a room. For this reason, it is of the utmost importance that you never put up more chairs than you expect to be filled!  It is precisely at this point that hotel and convention personnel be monitored closely. When asked to set a room for 80 people, they will frequently set it for 100, just to be on the "safe side." What they don't know is that the planner is expecting 60 people, and asked for 80 chairs "just to be on the safe side."  Both the hotel and the meeting planner are prone to think backwards about this issue. If you are expecting 60 people, set up 50 chairs just to be on the safe side. The "unsafe side" is not having too few chairs (that can easily be remedied by adding a few more in the back), it is having so many chairs that the front rows are empty and the audience is scattered. I do not recommend merely putting up more chairs than you need and roping off the back few rows. This almost never works, as people will simply move the ropes, or become angry at your attempt to manipulate them.
Banquet staff and speakers are often at cross-purposes. The hotel wants lots of empty space through which wait staff can easily walk. Good speakers want audiences packed tightly together to take advantage of the energy a crowded room generates. The hotel staff wants all of their work done well in advance, so they set out many more chairs than needed.  Speakers prefer to have the front rows filled, which demands that some chairs be brought in at the last minute only if they are needed.
Typically, if people purchase a ticket for a particular event, they will fight over the front rows. However, if they pay only a single fee for an entire conference, they fight over the back rows, presumably to allow an inconspicuous exit should the event become too boring. This tendency to fill a room from the back to the front must be relentlessly fought by the meeting planner, for to allow the front rows to remain empty is to doom your conference to mediocrity. The only effective way to force the room to fill completely is to limit the number of chairs available.
Edu-tainment: Successful conferences today are marked by their ability to both entertain and educate attendees simultaneously. Activities must be both instructive and fun.  Content must be mixed with humor. Content-laden sessions must be balanced by lighter fare, especially at the end of a long day of seminars. Similarly, highly effective speakers entertain while they teach and train. Choosing the right speaker, then, is critical to the effectiveness of your conference. A boring speaker will override all of the principles in this article, and will ultimately be the criterion by which all of your efforts are judged. The educational value of a conference that costs tens of thousands of dollars to put on can be greatly diminished by hiring a speaker that is unable to make your people laugh while they learn.
The ten principles above will enable you to create an ATMOSPHERE of learning that will greatly enhance the effectiveness of your next convention. Best of all, most of them require almost no effort at all. Many can be achieved by simply giving different instructions to your hotel or convention contact. Those that do require an investment of your time and energy, however, will be repaid many times over.
(Read Parts One & Two of: How to Make Your Next Business Meeting 50% Better … with almost no effort at all!)
To check availability and book Billy Riggs for your next event:
Call Eagles Talent: 1.800.345.5607
Or click here to visit his keynote speaker profile page.