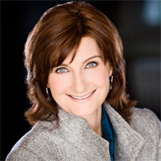 Cheryl Cran, CSP is an in-demand consultant and speaker on workforce issues. Her years of in-depth research, hours with focus groups, and analyzing audience response data provides strategies to lead, communicate and manage change in a Multigenerational workplace. Her understanding of corporate culture produces tailored keynotes and training programs that promote strategic management and organizational change.
Cran's most recent book 101 Ways to Make Generations X, Y and Zoomers Happy at Work, analyzes business trends to confirm that companies focusing on the uniqueness of their workforce will gain competitive advantages in the workplace.
In this Eagles Talent Speakers Bureau exclusive Skype interview, host Sheldon Senek talks with Cheryl Cran about how technology is changing and leadership can adapt to these changes. She also provides tips and strategies to being a better leader, and explains her 4 levels of leadership awareness.

If you'd like to bring Cheryl Cran into your event contact Eagles Talent Speakers Bureau at 1.800.345.5607.

Go ahead … click the Eagle.