Recently, Pat Williams, one our most distinguished motivational speakers at Eagles Talent Speakers Bureau, delivered an inspirational keynote presentation to address both leadership and teamwork for the members of the School Nutrition Association (SNA).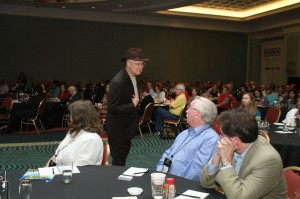 The mission for the SNA is to advance good nutrition for all children. Since 1946, the School Nutrition Association has worked to ensure all children have access to healthful school meals and nutrition education by:
1. Providing members with education and training.
2. Setting standards through certification and credentialing.
3. Gathering and transmitting regulatory, legislative, industry, nutritional and other types of information related to school nutrition.
4. Representing the nutritional interests of all children.
Believe it or not, school nutrition is at a critical crossroads. There has been an ongoing scrutiny of school meals, pending regulations, and an effort to create positive promotion of the school cafeteria. These are questions that the School Nutrition Association (SNA) were set out to answer for their 2012 Child Nutrition Industry Conference (CNIC). For the members of SNA, accomplishing this is no easy task, as every parent of every child has high expectations — especially considering that, as a nation, we are constantly faced with challenges of obesity, allergies, and other health concerns (diabetics, dental, heart, etc.).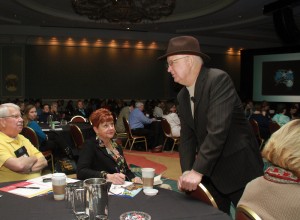 As a school nutrition professional, members must have the ability to work together as a team and deal with the ongoing changes of regulations and health studies on various foods (which perhaps change as much as technology). This is why finding the perfect keynote speaker for the "Create Your Roadmap for Change" Conference was so important.
According to Ruth Bennett, CMP for the School Nutrition Association, "we were looking for a speaker who was motivational, inspirational, positive and could relate to the audience. We were looking for someone who could address both leadership and teamwork … since the SNA President made personal wellness a focus."  For that reason, there was no better inspirational speaker to address those topics than Senior Vice President of the Orlando Magic, Pat Williams.
Pat Williams is no stranger to pressure, teambuilding, and keeping people around him motivated. He's had winning NBA teams; he's made tough decisions in his NBA career, like trading Pete Maravich or trading for Julius Erving, Moses Malone, and Penny Hardaway; he's also put together great teams by drafting top players such as Charles Barkley and Shaquille O'Neal. Even more impacting, off the court, he and his wife Ruth, are the parents of 19 children, including 14 adopted from four nations, ranging in age from 18 to 32.
Pat's message was just what the SNA needed. Ms. Bennett added that Pat was, "clear, concise … [and used] basketball analogies that brought points home, with a touch of humor, [and] practical principles that could be used immediately." Pat's presentation certainly helped to provide insights to the school nutrition colleagues and navigate them forward through the complex challenges ahead.
The SNA is a truly vital organization that has our children's health in the forefront. If you would like more information on the great things that this association does, visit the School Nutrition Association website.
Interested in Pat Williams' positive keynote presentation for your upcoming event? Talk with one of our program experts by calling 1.800.345.5607 or contact us here.