Justin Locke spent 18 years playing the double bass with the Boston Pops. Today he is an accomplished author and witty keynote speaker who tells stories that will inspire you to "embrace your inner idiot" and free yourself from the limitations of conventional wisdom. In this article, Justin cleverly explains how to choose the appropriate professional speaker for your next event.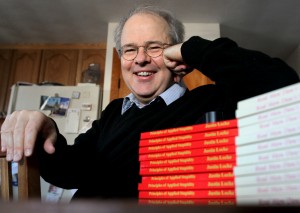 So here's a question for you: when you sit down to think about hiring a speaker for your next event, what goes through your mind?  The process can be daunting. After all, there are literally thousands of possibilities to choose from.
One of the biggest problems in booking "a speaker" is that the word is so terribly vague. After all, anybody who can speak (and that's just about everybody) is capable of being "a speaker." So when you and your committee sit down and say " we need to hire a speaker," that really doesn't say very much.
Event owners are always seeking a result. There is always a goal they wish to achieve. The "speaking" is just a means to an end.  So the question here today for you is, what is your specific goal in giving someone a microphone and putting them in front of your group?
The options are many, and this may sound like a remake of Green Eggs and Ham. Do you want someone to impart technical information?  Do you want someone who will leave the audience feeling spiritually energized?  Do you want someone who is "a name" who will draw attendees to your event? Do you seek pure fun and entertainment?  Do you want to hear about a grand adventure? Do you want someone who will get everyone laughing? Perhaps you want an "expert" who offers tips and tricks on being more efficient at a given task? Or perhaps all or none of the above?
No matter what your answer, the answer is not "a speaker." So let's stop using the "S" word, as it has so many meanings as to be meaningless. Instead, how about, referring to a "person who incites laughter in large groups," or maybe "a person who has exhibited unique leadership ability," or perhaps "a person who challenges conventional wisdom without being too offensive to those who like the status quo," or, you can make up your own.
When you decide to select someone to be "an audience focus maintenance engineer," or perhaps a "communicator of technical information via mostly verbal means," don't hesitate to express what your overall goal is.  Some "positive attitude enhancement specialists" have more than one presentation, most are happy to work with you and adapt to your unique requirements.
And always remember, they talk a lot, but during the sales process, professional speakers are the best listeners you've ever seen.
To check availability and book Justin Locke for your next event:
Call Eagles Talent: 1.800.345.5607
Or click the link to contact Eagles Talent Speakers Bureau.