Eileen McDargh is an organizational resiliency expert, top platform speaker in management and leadership, and award-winning author. She has given thousands of keynotes speeches for organizations and associations in dozens of fields, including aerospace, education, finance, healthcare, hospitality, manufacturing, pharmaceuticals, public agencies, real estate, retail, technology, utilities, and women's leadership.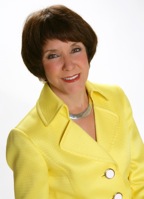 In 1980 Eileen became the founder and CEO of her consulting firm, McDargh Communications. Her firm has helped organizations and individuals transform the life of their business, and the business of their life through conversations that matter, and connections that count. Organizations like Cisco, Novartis, Oracle, and Procter & Gamble hire her firm to teach them ways of building resilient leadership teams and workplaces.
Even before starting her own consultancy firm, Eileen was the Director of Communications for a national healthcare company, served as senior manager on a U.S. Navy installation project, and taught school, where she was elected "Educator of the Year." Her diverse career experiences with different industries, and A-list consultant clientele, made her a respected literary resource.
She has written five successful books, mostly focusing on resiliency: "The Resilient Spirit: Heart Talk for Surviving in an Upside Down World." But it was her book called: Gifts from the Mountain: Simple Truth's for Life's Complexities, which won her the Benjamin Franklin Gold Award. She also writes many articles that are found in thousands of publications both in hard copy and on-line.
Today Eileen is a certified speaking professional (CSP) and her election into the CPAE Speaker Hall of Fame places her among the top 3% of speakers in the United States. She recently completed two three-year terms on the Board of Directors of the National Speakers Association and also currently sits on an advisory board for Take Back Your Time, a North American initiative for work/life integration practices. Her speaking topics focus on: change, leadership, life balance, and personal growth.
To check availability and book Eileen McDargh for your next event:
Call Eagles Talent: 1.800.345.5607
Or click here to visit her keynote speaker profile page.