On the Eagles Talent Trending NOW program, we did a Skype video interview with President Barack Obama (A.K.A. Reggie Brown) direct from an undisclosed location (most likely, in an underground bunker from the sound quality). This President Obama has been going around doing speaking engagements while moonlighting as president. After watching our interview, you'll see why some consider him a not only a motivational speaker, an inspiration to America, but of course, very funny.
Reggie Brown is spot on as President Obama, from his voice and charisma, to the mannerisms. Reggie's impersonation of President Obama will elevate any event to the status of presidential and have both Democrats AND Republicans laughing. Learn more about the talents of Reggie Brown here.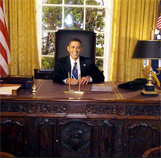 To book, check availability or speaking fees of Reggie Brown (as President Barack Obama), use our Eagles Talent Speakers Bureau "Contact Us" form  or call us at 1.800.345.5607.