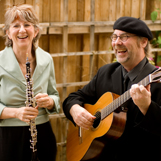 Eric Tingstad and Nancy Rumbel began their collaboration in 1985. Their debut album, The Gift, quickly became a holiday classic. In 1998, American Acoustic was honored as "Acoustic Instrumental Album of the Year." And in 2003 they received a Grammy Award for "Acoustic Garden." They have performed, recorded and toured together for over 24 years with 19 albums to their credit. Traveling to as many as 50 concert venues a year, they are friends who enjoy each other's company and truly love making music.
To check fees and availability on Eric Tingstad & Nancy Rumbel call Eagles Talent Speakers Bureau at 1.800.345.5607. 

Go ahead … click the Eagle.