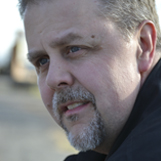 Fee Range:

$10,001-$15,000




Traveling From:

New Jersey


Check Availability
Submit your request or call us at 1-800-345-5607
We guarantee a response time of one business day, or sooner.
John C. Havens

H(app)athon Founder, "GO TO" Voice on Technology and the Science of Happiness for The Guardian, Mashable, & Huffington Post
Why Book John C. Havens?


John uses his research and insight in national publications to help organizations better utilize technology with positive psychology.
With pragmatic solutions combining economics, emerging technology, and positive psychology, John provides a human-centric roadmap to help attendees embrace their present to better define the future.
John has been on the forefront as a featured guest on respected programs for his expertise on data, technology, and the trending topic of "happiness."
Biography of John C. Havens
John C. Havens is a contributing writer for The Guardian, Mashable, and The Huffington Post. He is the Founder of The H(app)athon Project, a non-profit organization, "Connecting Happiness to Action" by helping people track their values and personal data as a way to increase their wellbeing via customized volunteer opportunities in their community. He is the author of Hacking H(app)iness - Why Your Personal Data Counts and How Tracking it Can Change the World (Tarcher/Penguin Publisher, 2014), Tactical Transparency - How Leaders Can Leverage Social Media to Maximize Value and Build Their Brand, and is completing his newest book Genuine: Authentic Happiness in an Age of Artificial Intelligence is due out in 2016 (Tarcher/Penguin Publisher).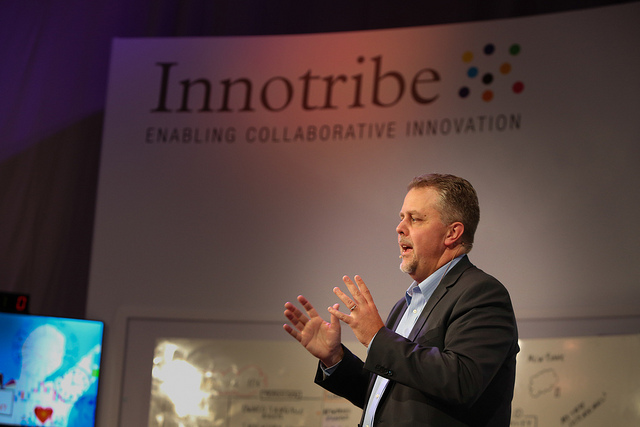 He speaks to corporate groups and associations globally. He has also presented at the Sibos Conference in Dubai, Cisco in Milan, the Future Consumer Intelligence Conference, as well as SXSW.
John is a former EVP for a top-ten global PR firm; he has counseled clients like Gillette, HP, and Merck on emerging and social media issues. He is a leading voice for technology, business, and well being, and often featured in USA Today, Fast Company, BBC News, Mashable, The Guardian, The Huffington Post, Forbes, INC., PR Week, and Advertising Age. John has also appeared on Stassel, C-Span's Communicators, and on the Leonard Lopate Show. Havens was also a professional actor in New York City for over 15 years, appearing in principal roles on Broadway, television, and film.
More on John C. Havens
What kind of impact can John's presentation have? Read a rave review of John Haven's keynote presentation at a technology meeting from RAVE Publications: The Anatomy of a Great Keynote.
Read an introduction to John's book Hacking H(app)iness: HERE.
Discover the benefits of holding a H(app)athon Project workshop and how it's not only good for your business, but good for your life. Learn here.

Featured on the Leonard Lopate Show. John Havens highlights the benefits of an examined life in the digital world and illustrates how the fruits of the Information Age can improve our lives for the better. Listen to the show here.
US News and World Report. This featured article, "A Data-Driven Path to a Better Life" covers his critically acclaimed book "Hacking H(app)iness," and shows how you're just a click away from happiness. Read here.
Activate New York 2013 Summit on Guardian.com. John Havens talks and sings about using the technology within smart phones to help quantify happiness. Visit the Guardian.com site here to watch it.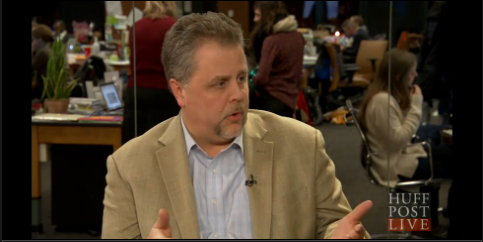 Can Technology Measure Our Happiness?
John Havens dives into the intersection of happiness and technology in this HuffPost Live interview. Watch it here on the Huffpost Live site.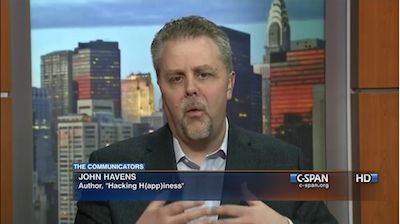 John C. Havens talks about his book Hacking H(app)iness on C-SPAN's Communicators. John Discusses how personal data is being tracked, what data brokers do, and how individuals could take back control of some of this data. Watch it here on C-SPAN's site.
Program Descriptions
Mind the Gap: Increasing Genuine Wellbeing in an Age of A.I. (Artificial Intelligence)
Machine-learning algorithms may soon get to know us better than we know ourselves. It's critical to recognize where technologies already consume our attentions to increase our wellbeing and happiness.
With pragmatic solutions combining economics, emerging technology, and positive psychology. John Havens provides a human-centric roadmap to help attendees embrace their present to better define the future.
Learning Outcomes of Mind the Gap:
How to better pursue purpose on the job and at home.
How practicing gratitude can lower stress and correlates to better physical, mental, and emotional health.
How altruism and random acts of kindness can be used as a tool to improve employee morale, wellbeing, and productivity.
How to live to your values and increase happiness, job satisfaction, and productivity.
It's time we knew more about ourselves than the sensors in our devices.
Well-Being in the Modern Workplace - How Emerging Media and Happiness will Affect Your Bottom Line
The study of happiness is exploding -- the United Nations has issues its first World Happiness Report, and countries all around the world like Bhutan, the UK, and China are issuing reports based on hundreds of thousands of interviews from people describing what makes them happy and why.

 These trends of studying well being -- the science and economics of happiness -- have entered the workforce. More and more research is proving that employees who are happy, who feel a sense of meaning and purpose at their work, are more productive and valuable for their employers. Based on his Mashable article (and upcoming book from Tarcher/Penguin), The Value of a Happiness Economy, John will teach you why the global trend of analyzing well being is so critical for employers to understand, and how they can utilize existing tools to measure and improve their employee's happiness.