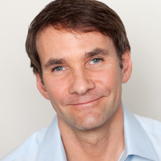 Fee Range:

$30,001-$50,000




Traveling From:

California


Check Availability
Submit your request or call us at 1-800-345-5607
We guarantee a response time of one business day, or sooner.
Keith Ferrazzi

Networking Guru, CEO, Author of Never Eat Alone
Biography of Keith Ferrazzi
Keith Ferrazzi is the Founder and CEO of Ferrazzi Greenlight. He provides market leaders with strategic consulting and training services to increase company sales and enhance team performance.

Ferrazzi and his associates are the world's leading experts in the relational and collaborative sciences. Their research has proven the singular predictive importance of relationships to business success (sales, team performance, and individual career advancement). Their applied work with thousands of the most respected organizations has established clear methodologies for accelerating such relationship development.

Ferrazzi Greenlight strategically leverages the insight of its executive team, whose careers span the highest echelons of corporate America, along with principles from Ferrazzi's bestselling book, Never Eat Alone. Never Eat Alone has been recognized as one of the best business books of 2005, 2006, and 2007 and it has become a must read for virtually all business schools. His recent book, Who's Got Your Back, guides readers to develop an intimate inner circle, a handful of people who they trust completely to hold them accountable to ever higher levels of achievement.

Ferrazzi created myGreenlight (formerly Relationship Masters Academy), an online learning academy for "people skills" that delivers an exclusive program aimed at sales people and business professionals.

Ferrazzi is a frequent contributor to CNN and CNBC. He has authored numerous articles for leading business and consumer publications, including Forbes, Inc., The Wall Street Journal, the Harvard Business Review, and Reader's Digest.

Ferrazzi was previously Chief Marketing Officer and Head of Sales at Starwood Hotels, where he oversaw marketing activities for global brands including Sheraton, Westin, The Luxury Collection, St. Regis, and W Hotels. Ferrazzi also served as Chief Marketing Officer for Deloitte Consulting, a leading global management consulting firm, where he developed and managed the industry's first globally integrated marketing organization.

Ferrazzi's foundation, Big Task Weekend, is an impactful, invitation only event that brings together a diverse group of visionary leaders from top organizations to facilitate partnerships to solve the world's biggest challenges.
Program Descriptions
Relationships for Revenue Growth
Did you know that the number of names in your address book can predict how much money you make for your company? That's just one "wow" statistic from recent social networking research showing that relationships play a more profound role in individual financial success than previously recognized – except by Keith Ferrazzi, who has devoted himself to helping sales forces boost revenue through relationships since the publication of his bestseller Never Eat Alone. He is the world's foremost expert on business relationship development and this talk distills 20 years of research, experience, and teaching. Revenue growth demands that sales forces be competitive in the art and skill of relationship building, now more than ever as products and services are rapidly commoditized. The one with the most relationships of the highest quality wins. To leverage relationships at that scale, sales teams need new mindsets, processes, and skills that will allow them to accelerate relationship development and then manage and maintain those connections with effectiveness and efficiency. Keith's highly interactive, dynamic Relationships for Revenue Growth keynote provides exactly that, introducing groups to his proven Accelerated Relationship Development system. Keith is also available for breakout sessions and webinars on this topic, which can be customized for the sales force, executive leadership, or any division of your organization.

Relationships for Leadership Success and High-Performance Teams
Research shows that high-performance teams are also the most highly committed teams. As you look around your organization, can you honestly say that your people are committed to not letting each other fail? The very best leaders know how to help their team build strong, engaging relationships. Keith Ferrazzi's Relationship for Leadership Success and High-Performance Teams keynote provides the mindsets, processes, and tools to transform even the most conflicted team into a closely bonded working unit. After this keynote, leaders will understand that in today's workplace, success isn't achieved alone. This talk deeply leverages the consulting methodologies that have made Keith and Ferrazzi Greenlight the go-to firm for transforming company culture. Participants practice the techniques of Ferrazzi's Accelerated Relationship Development system right in the room in the course of this highly interactive, dynamic seminar. They build higher levels of intimacy and trust as part of the roadmap that will allow them to move forward with faster decision-making, more robust problem solving, and innovative thinking among their team and the broad organization.

Relationships for Successful Project Management
Extraordinary business success can be attributed to strong leadership and effective management and utilization of project teams. In today's fast-paced, competitive business environment, integrated and effective project teams are required to use cutting edge technology to achieve unprecedented financial earnings. Often however, these projects fall victim to ill-conceived, poorly-executed business plans that completely ignore the importance of relationships among the people making up the project team. To ensure corporate survival under these conditions, leadership must secure a competitive advantage. As Jack Welch, former CEO and Chairman of General Electric simply stated: "If you don't have a competitive advantage, don't compete."

Relationships for Success Through Diversity
Relationships among individuals and teams drive business success. As our workplace grows increasingly diverse, coworkers may reach out first to those most like themselves. When co‐workers allow differences to hinder them from forming relationships, employee engagement, productivity, collaboration and corporate growth suffer. Keith Ferrazzi's Relationships for Success through Diversity delivers the tools you need to embrace the differences among your co‐workers so together you can create a strategic, purposeful and authentic roadmap for success. This highly interactive keynote is truly transformative, teaching you the necessary mindsets, skill sets and actions to build deep relationships, which lead to a higher level of ongoing, sustainable change. Your employees will leave the room feeling responsible for each other's success, what Keith Ferrazzi calls "lifeline relationships." Through a series of exercises to shift mindsets from isolation to connection, Ferrazzi creates the foundation for two powerful tools for workplace excellence: candor and accountability, the keys to identifying problems, developing creative solutions, and then holding each other accountable for mutual success.

Collaboration for Team Success
Collaboration propels success. History is peppered with examples of groundbreaking collaborative accomplishments in all arenas: the creation and adoption of the Declaration of Independence, the discovery of radioactivity by Pierre and Marie Curie, and even the 1979 Pittsburgh Pirates World Series Championship team, nicknamed "The Family." It is difficult to imagine a world of successful accomplishment devoid of collaboration. With competition maxed out on pricing and product features in nearly every industry, the key differentiator in many cases are relationships: both those that companies have with their customers and the relationships that employees have with each other. It is these relationships that are transformative and allow an organization the ability to retain loyalty and to innovate their products and services. Now is the time for groups to invest in building deep collaborative relationships both internally and externally. These authentic, non-transactional relationships form the key building blocks that allow companies to differentiate themselves in the marketplace.

The Eight Barriers to Organizational Behavior Change
Overcoming the 70% failure rate of business transformation projects requires behavior transformation. In research covering 10 years and hundreds of organizations, we've come to realize that companies that do not successfully tap into the emotional reasons for change will not be effective in any attempted change initiative. In fact, the "how‐to" coaching of key constituencies to desired new behaviors motivated by emotional rewards but measured by financial goals is what allows an organization to achieve lasting transformation while respecting short‐term revenue pressures.
Don't mess up by calling it "culture change." Even the most cynical will buy in if you begin with an emotionally compelling challenge and coach each constituency to collaborate on meeting it. A sense of early mastery – a "taste" of success earned by getting results in the process of performing real work – gets early movers to commit to specific and measurable actions including recruiting others to adopt the "new‐way" behaviors. But Ferrazzi Greenlight's decade of experience coaching dozens of large organizations has identified eight barriers that can torpedo your change initiative if not planned for, worked around and transcended.