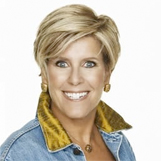 Fee Range:

Call for Fee




Traveling From:

California


Check Availability
Submit your request or call us at 1-800-345-5607
We guarantee a response time of one business day, or sooner.
Suze Orman

Internationally Acclaimed Personal Finance Expert
Biography of Suze Orman
Suze Orman has been called "a force in the world of personal finance" and a "one-woman financial advice powerhouse" by USA Today. A two-time Emmy Award-winning television host, New York Times mega bestselling author, magazine and online columnist, writer/producer, and one of the top motivational speakers in the world today, Orman is undeniably America's most recognized expert on personal finance.

Orman has written seven consecutive New York Times bestsellers: Suze Orman's 2009 Action Plan; Women & Money; The Money Book for the Young, Fabulous & Broke; The Laws of Money, The Lessons of Life; The Road to Wealth; The Courage to Be Rich; and The 9 Steps to Financial Freedom, as well as the national bestsellers, Suze Orman's Financial Guidebook and You've Earned It, Don't Lose It. In addition, she has created Suze Orman's Identity Theft Kit, FICO Kit, Will & Trust Kit, Insurance Kit, The Ask Suze Library System and Suze Orman's Ultimate Protection Portfolio.

Orman has written, co-produced, and hosted six PBS specials based on her New York Times bestselling books, and is the single most successful fundraiser in the history of public television. In 2004 and 2006 Suze won two Daytime Emmy Awards the category of Outstanding Service Show Host for her PBS specials. Orman is a contributing editor to "O" at Home as well as "O", The Oprah Magazine in the United States as well as the South African edition. She has a bi-monthly column for the Costco Connection. Orman hosts the extremely popular and award-winning Suze Orman Show, which airs every Saturday night on CNBC and on XM & Sirus radio, and also hosts the Financial Freedom Hour on QVC television.

Over her television career Orman has won more Gracie awards (5) than anyone in the 33 year history of these awards. The Gracie's recognize the nation's best radio, television, and cable programming for, by, and about women. In 2003 Orman garnered her first Gracie for "The Suze Orman Show" in the National/Network/ Syndication Talk Show category, won her second and third Gracies in the Individual Achievement: Program Host category in 2005 and 2006, won her fourth and fifth Gracie for "The Suze Orman Show" in the Outstanding Talk Show category in 2007 and 2008.

In October 2008 Orman was the recipient of the National Equality Award from the Human Rights Campaign. In May 2008 Time's Magazine named Orman as one of the TIME 100, The World's Most Influential People. In April 2008 Orman was presented with the Amelia Earhart Award for her message of financial empowerment for women, the Amelia Earhart Award is presented annually to a woman who embodies Earhart's pioneering spirit and who has significantly contributed to the expansion of opportunities for women. In November 2006 Orman was the inaugural recipient of the MS Spirit Award, recognizing her support of the Society over the past five years toward finding a cure for multiple sclerosis. She received a 2003 Crossing Borders Award, which are given by the Feminist Press to recognize distinguished women who not only have excelled in remarkable careers, but have also shown great courage, vision, and conviction by blazing new trails for women in their fields. A 2003 inductee into the Books for a Better Life (BBL) Award Hall of Fame in recognition of her ongoing contributions to self-improvement, Orman had previously received the 1999 BBL Motivational Book Award for The Courage to Be Rich. In 2002 Orman was selected as one of five distinguished recipients of the prestigious TJFR Group News Luminaries Award, which honors lifetime achievement in business journalism.

The top female motivational speaker in the U.S in 2007 according to Business Week Magazine, Orman has lectured widely throughout the United States, South Africa, Asia, and Canada to audiences of up to 100,000 people. She has been featured in almost every major publication in the United States, and has appeared numerous times on The Oprah Winfrey Show, Larry King Live, The View, and the Today Show.

Orman has partnered with Avon Product, Inc. to be their special personal financial advisor to Avon Representatives to offer money management advice and strategies for success. A first of the kind in direct selling industry, the program launched in January 2008 to the company's nearly 500,000 Avon Representatives in the U.S., with plans to expand globally in the future.

In September 2008 Orman partnered with the FDIC to help educate Americans about FDIC insurance. Orman was instrumental in the development of the myfdicinsurance.gov website and getting out the message that you must make sure your money is FDIC insured.

Orman, a CERTIFIED FINANCIAL PLANNER™ professional, directed the Suze Orman Financial Group from 1987-1997, served as Vice President of Investments for Prudential Bache Securities from 1983-87, and from 1980-83 was an Account Executive at Merrill Lynch. Prior to that, she worked as a waitress at the Buttercup Bakery in Berkeley, California from 1973-80.
Program Descriptions
The Road to Wealth
9 Steps to Financial Freedom
The Courage to Be Rich
Money and Personal Finances