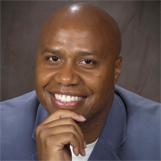 Fee Range:

$15,001-$20,000




Traveling From:

Minnesota


Check Availability
Submit your request or call us at 1-800-345-5607
We guarantee a response time of one business day, or sooner.
Walter Bond

NBA Player and Business Owner, No One Can Stop You But YOU!
Why Book Walter Bond?


He shares his personal experience in the NBA with corporate America and teaches audiences the importance of accountability and excellence.
Known as Mr. Accountability, Walter is a dynamic and entertaining speaker who effortlessly captivates his audiences with his message on responsibility and productivity.
He teaches audiences how to advance productivity through increased employee engagement and team synergy.
Biography of Walter Bond
Like many young men growing up in Chicago, Walter Bond dreamed of becoming an NBA player. Facing injuries and other challenges with unusual determination, he rose from being a reserve player coming off the bench to become the first rookie Free Agent to start for the Dallas Mavericks. This astonishing journey provides the foundation for the powerful principles Walter teaches today.
Walter attributes his success to the power of accountability. Walter Bond is called "Mr. Accountability" because he compels audiences to take personal responsibility for their current situation, whatever it may be. Then he reveals how to harness and apply the power of accountability so that every listener can become a rock star in his or her industry.
Walter's stories give listeners a roadmap they can follow to reinvent themselves and recover the confidence they need to focus, align and deliver results. Drawing on lessons learned in the trenches both in sales and as an entrepreneur, Walter's presentations open up new ways of looking not only at business challenges but also the world.
Walter's stories are rich with humor, emotions, and authentic breakthroughs. His inventive phrasing, mannerisms, body language, pacing, and wisdom exert a powerful effect on his audiences, making his message memorable for months and years to come.
Walter has impacted hundreds of thousands of people in his rapid rise to the top of the speaking industry. Through his keynotes, workshops, books and CDs, Walter teaches that personal accountability, confidence and success are possible for all who desire it. Recognized as one of the world's preeminent experts on sales, motivation, and leadership, Walter has been helping people turn self-limiting beliefs into self-empowering strategies for more than a decade.
Walter creates an experience that audiences have enjoyed worldwide and never forget. His dynamic and compelling programs provide both the motivation and the strategies to excel in business and in life.
Program Descriptions
No One Can Stop You, But You
Does your organization have accountability? When something goes wrong, does everyone start pointing fingers and making excuses? How much more productive would your organization be if everyone took responsibility for their mistakes and shortcomings and continuous improvement was a team effort?
---

Are You Still Unstoppable?
Has the accountability in your organization kept growing as fast as it did right after Walter's first keynote? When you want Mr. Accountability to rekindle the fires of enthusiasm for personal responsibility, book Walter for this encore performance.
---

Leaders: Get Out of The Way!
Think about it for a moment—have you ever met a person that enjoys being bossed around? The most common form of leadership is micro-management—which is destructive, expensive and an organizational buzz kill. Most leaders micro-manage because they have never been sufficiently trained on "how to lead."
---

Sell It Like You Mean It!
Whether you're looking to get your sales team's year off to a fast start, give it a mid-year jolt, or fire it up to finish the year with momentum, this program is full of principles that will empower your sales professionals to be re-energized with passion, desire and commitment regardless of their success levels.
---

Dominate Right Where You Are
Do your employees enthusiastically pursue the pinnacle of excellence? More likely they're just looking to reach the next level—just chasing their next promotion. Let Walter prove that the key to getting ahead lies in their current situation.