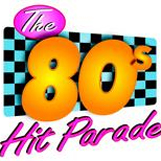 Eighties Hit Parade
The 80's Back to Life
The 1980s... live and kicking!
You lived them, you loved them... admit it! Now get footloose again with The 80s Hit Parade, a live fun-filled stage show and dance party!

Live band, big screen video, MTV-style hosts, trivia, costumes and more...
The 80s Hit Parade is a multimedia love affair celebrating the best in 80's music and popular culture. This extravagant non-stop musical journey features the decade's #1 international hits performed by an awesome live band, hosted by video jockeys Chris Nelson and Jayne Collins, and enhanced by big screen graphics and loads of 80's "Hitz Bitz" trivia.

Big hair, big fun!
Step into your acid-washed jeans and enjoy the best of the decade, from Gary Numan, Bon Jovi and The Bangles to Rick Astley and The B52s. You can dance until your whole shack shimmies - or just enjoy the band and test your knowledge of 80's trivia! Check out the band in our 80's-style video, listen to the play, or have a look at some photos of previous shows.

What people have said...
It was incredible to hear all the songs performed live! It was like being back when it all happened... thank you 80s Hit Parade!

The 80s Hit Parade is a laugh-a-minute reminder of the way we used to live.

Their motto should be "Have Big Hair, Will Travel"!