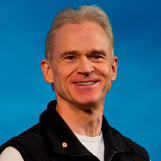 Alan Hobson
Mt. Everest Climber, Summiteer, Cancer Survivor
Traveling From
Alberta, Canada
X
Program Descriptions
The CAN & WILL of Winning- Your Toolkit for Triumph
Join the thriving 2-Time Cancer Survivor, Mt. Everest Climber and Summiteer as he tells his riveting true tale of tenacity, teamwork and triumph. His three self-guided, self-organized and corporately sponsored expeditions to the world's tallest peak were massive sales, marketing and mountaineering efforts. In over 20 years as a full-time presenter, he has never given the same presentation twice. He is the best speaker in the world at making the do-or-die lessons of peak experiences immediately applicable to business and the business of life – your life.
Why Book Alan Hobson?


He has taken part in 10 high altitude mountaineering expeditions worldwide, including successful ascents of the highest peaks in North & South America.
He is a 2-time cancer survivor who overcame a near-terminal diagnosis to make a miraculous recovery and shares his experience to inspire others to overcome adversity.
Alan Hobson redefines the possible. At the age of 29, the author, speaker and worldwide adventurer set out to realize his greatest childhood dream. It took him 10 grueling expeditions to high altitude, including three self-guided, self-organized and corporately sponsored expeditions to Mt. Everest, before he finally stood on top of the world. As he gazed out from the highest physical point on the planet, tears froze to his face. He could see the curvature of the Earth as the horizon bent in his peripheral vision at 29,035 feet.

Incredibly, an even bigger mountain lay ahead. Three years after stepping down from the summit of Everest, Alan came face-to-face with "The Everest of Illnesses" when he was diagnosed with an aggressive blood cancer and given less than a year to live. At the time of his diagnosis, 90 percent of the cells in his bone marrow were cancerous. He endured more than 500 hours of around-the-clock chemotherapy, including 120 hours of high dose chemotherapy to completely eliminate his immune system. Then, on Nov. 15, 2000, he received a life-saving adult blood stem cell transplant, the modern day equivalent of a bone marrow transplant. His donor was his brother, Eric.

When Alan emerged from the transplant, because of debilitating fatigue and weakness, his biggest challenge was being able to stand in the shower long enough to wash.

"I timed it," he recalls vividly. "It was 53 seconds. I had stood on top of the world and I couldn't even stand in the shower for more than a minute. It was not only disheartening. It was frightening. If I survived, I wondered if I'd ever get my life back."

Slowly, Alan started his way up this inner Everest. It was to prove many times harder than scaling the outer one. The climb took him five years. Using the hard-won lessons he had learned through his many adventures worldwide, thanks to sheer determination, the love and support of his family and friends, divine intervention and the miracles of modern medicine, he not only survived but thrived. Today he is one of less than a few dozen people to have regained an elite level of fitness after an adult blood stem cell transplant for acute leukemia and is officially medically cured. He has since survived a preliminary form of bowel cancer and emerged even stronger from that as well.

"My 'Inner Everests' have dwarfed the outer one," he says quietly, "I see life now from a new perspective. Success isn't about height. It's about depth – the depths to which we must reach to rise to life's challenges. Although the magnitude of our mountains may at first defy us, our ability to climb back defines us."

The story of Alan Hobson's life is a breathtaking portrait in passion, persistence and peak performance spanning five decades. He is not only a two-time cancer survivor, Mt. Everest climber and summiteer, but an international bestselling author of six books, a renowned speaker and an inspirational figure. He has appeared on many national television talk shows, including Oprah. In his lifetime he has been a nine-time All-American gymnast, marathon runner, hang glider pilot, white water kayaker, white water rafter, cold water scuba diver, parachutist, journalist, and winner of the prestigious William Randolph Hearst Award for Excellence in News Writing. His latest passions include hiking, road and mountain biking in summer and snowshoe mountaineering and skate skiing (a challenging form of cross-country skiing) in winter. He is a tough man for tough times – an expert at overcoming adversity, adapting to cataclysmic change, enduring hostile and life-threatening operating conditions and ultimately emerging triumphant.

All three of Alan's Everest expeditions were self-guided, self-organized and corporately sponsored climbs, not privately guided efforts with fee-paying clients. Together with others and his friend and climbing partner, Jamie Clarke, for each expedition they brought in $250,000 to $500,000 in cash and products from corporations, handpicked team members, purchased, packaged and shipped tons of food, equipment and supplies, arranged for global communications and undertook the complex organizational logistics of staging each two-month trip. These endeavors pushed Alan's sales, leadership and organizational abilities almost as much as the mountain ultimately pushed his body.

After seven years of preparation, Alan's first expedition to Everest did not make it to the top. It ended 3,000 feet short of the summit when a fierce storm ripped the team's high camp off the mountain. Undaunted, he and a new team were back on Everest three years later with half the budget of the first trip, half the personnel, and no bottled oxygen. This time, his team missed the summit by an excruciatingly disappointing two city blocks when their lead climber came down with high altitude sickness just 180 yards from the top. They chose to try to rescue him rather than continue blindly for the goal. They saved his life. Finally, on his third expedition, Alan and Jamie changed their strategy completely, approached the mountain from its southern, Nepalese side, outsourced the organizational and leadership aspects of the climb and focused entirely on training and fundraising. The plan worked. Their team put six expedition members on the summit – almost half its climbers – with Alan and Jamie among them. It was a feat achieved by likely only a handful of teams in Everest's long and storied climbing history.

Alan's next expedition is the one he is currently on – to continue his miraculous climb back from cancer and help as many others as possible do the same. He is the co-author of a landmark book, Climb Back from Cancer – Introducing The 10 Tools of Triumph for Survivors and Caregivers. It chronicles the uplifting true story of his journey to the edge and back. It also pinpoints The 10 Tools of TriumphTM for survivors and caregivers – the key psychological skills needed to survive life- threatening illness and thrive beyond it.

Alan has also helped to spearhead a ground-breaking medical study to examine the effects of mild individualized cardiovascular activity (e.g. mild jogging, swimming, biking, hiking, etc.) in enabling North America's 12 million cancer survivors to overcome their #1 challenge – chronic fatigue. The result has been the pioneering Climb Back from Cancer Program, which is based on his own climb back. Thanks to the research efforts of a team of leading investigators, the program has already helped survivors regain their energy and reduce the anxiety, anger and depression resulting from treatment by 65 percent. These results are unprecedented in the history of cancer recovery research for survivors of bone marrow and blood cell transplants. Phase I of the study, a three-year, $300,000 effort, has compared The Climb Back from Cancer ProgramTM with existing physical activity guidelines to improve survivors' quality of life.

"We not only need to save lives," Alan says emphatically. "We need to return them."

Alan's pioneering philosophy permeates much of his life. In his speaking, he mesmerizes audiences with his completely personalized presentations. He never gives the same presentation twice. Using an exhaustive five-step preparatory research process, he carefully studies each organization and group. Then he accurately and seamlessly blends the information he has collected into each presentation, linking his life experiences with the specific challenges faced by his audience members. The result is that every presentation is a one-of-a-kind, tailor-made program that has unparalleled organizational and individual applicability and impact. This trademark technique has earned him the distinction of being one of the best adventure speakers in the world.

Alan lives in his favorite playground, the majestic Canadian Rocky Mountains in Canmore, Alberta, north of Montana. They provide him with priceless solitude, sanctuary and rejuvenation. He was born to help others see the world from a refreshing new perspective – one high above the clouds of anxiety and doubt where hope, strength and courage emerge triumphantly from within each of us.

"On the other side of fear is freedom," he says.