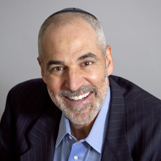 Alan Veingrad
Former NFL Offensive Lineman
X
Program Descriptions
Touchdowns are a Team Effort- Offensive Play in a Defensive World
Every CEO needs a great offensive line to deliver a performance worthy of the Vince Lombardi trophy. The skills and qualities that enable a player to win the game ball are the same needed to enable your team to meet shareholder expectations and deliver consistent customer value. Alan details his five-point program that serves as the play book for your organization to score big; no matter how challenging the formation or how long the odds.

My Teshuvah Journey: Steps to Self-Discovery in Size 14 Shoes
He lived the glamorous life of a retired NFL player. He loved the attention, the fast pace, the invitations, and the fascinating people, but he was increasingly aware of a blankness in his heart and an emptiness in his soul. As Alan reacquainted himself with the teachings, values, and practices of Jewish life he began to get a glimpse of what was missing. In this very personal presentation, Alan shares the steps that have led to his own spiritual journey where he has found a deepening sense of contentment and a renewed sense of purpose.

In Overdrive at Over Time- Consistently Doing More Than What's Expected
Personal excellence begins with doing more than what's expected more than what the terms of the contract specify. The NFL is not for the faint-hearted, you must be over-the-top crazy, hyper-intense, super-focused, and totally dedicated. Doing more than the minimum; never focusing on the language in the contract or the strict construction of the suggested workout. It's all about doing more—run more, lift more, study more.
Why Book Alan Veingrad?


Alan keeps his audiences spellbound with his accounts of the intense training, ruthless competitive atmosphere, and performance requirements of professional football life.
Relating his experiences as a professional athlete, a sales and marketing executive, Alan's presentations bring audiences laughter, inspiration and valuable insights into both life and business.
Alan Veingrad was a standout football player at East Texas State University, but he was not immediately drafted into the NFL. Several teams who tried him out dismissed him for being too small and not NFL material because Alan remembered what his college coach told him. Alan persevered, demonstrating an unbelievable determination to succeed. He was eventually signed as a free agent by the Green Bay Packers where he played for five seasons starting every game his rookie year. Alan later joined the Dallas Cowboys, who sought leadership and experience for their offensive line, and remained in Dallas for two seasons where he became a Super Bowl champion in 1993. Alan's versatility and athletic proficiency as an offensive lineman resulted in his playing every position on the offensive line but center.

His performance on the field was celebrated when Emmitt Smith presented Alan with a Rolex watch after winning the NFL rushing title in 1991. He proudly wears this watch along with his Super Bowl ring, as a reminder of the obligations and the rewards that come with personal and professional accomplishment.

Alan has been in the business world since his retirement from the NFL. He has consistently exceeded the revenue expectations for his divisional responsibilities by three-digit percentages and exceeded the performance goals of his sales teams. He has partnered with the CEO at each of the companies he has served consistently contributing to bottom-line profitability in addition to driving client solutions.

Alan uses sports metaphors to illustrate his journey, and vividly relates the discipline of being a professional football player to succeeding in business and life. He shares these values and personal practices with audiences around the world, offering a highly motivational presentation guaranteed to recharge and refocus the intentions of people listening to him speak. Alan's powerful story serves as a playbook for personal productivity and will enable your team to rally together bringing your entire organization through the goalposts. He personifies personal fulfillment and has arrived at a place that most people only aspire to.