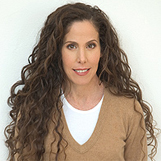 Amy Silverstein
Heart Transplant Survivor
X
Program Descriptions
Living with Chronic Illness
Wearing the mask of wellness; the benefits and consequences of looking great on the outside and feeling sick on the inside.

Waking up To Your Passion, Purpose and Meaning in Life
There are no excuses for not moving in the direction of your soul.

The Complex Dance of Doctor/Patient Communication
Being a smart, self advocating patient who is a 50% partner with his/her doctor.
Why Book Amy Silverstein?


She provides a compelling perspective on patient rights, the power of doctors, and the nuances of living with chronic illness.
She takes you on a journey of over two decades, shares her medical miracle, from the first misdiagnosis to her astonishing ongoing life after heart transplant, in spite of a ten-year post-surgery life expectancy.
Author, attorney, and speaker Amy Silverstein was a vibrant, energetic 24-year-old, Phi Beta Kappa type-A student at NYU law, when she learned she had a failing heart; suddenly, it was heart transplant or die. At 25, she underwent heart transplant surgery. An "extraordinary kind of amazing" medical miracle, her new heart has been beating strong for 20 years, despite a ten-year prognosis. A graduate of NYU School of Law (she completed law school after her transplant), Silverstein practiced corporate law prior to beginning her writing career. She serves on the board of directors of UNOS (United Network of Organ Sharing), a federally contracted transplant network. She was recently elected to the UNOS executive committee, a select group of board members.

Silverstein is author of the highly acclaimed 2007 memoir Sick Girl, a bold, unforgettable self-portrait and a riveting, keenly observed, wryly humorous look at full-throttle life-threatening challenges. Published in 2007, Sick Girl was voted winner of the Books for a Better Life award and a finalist for the Borders Voices award.

Ted Koppel said, "Amy Silverstein has lived twenty long years with a transplanted heart; much longer than any doctor could have predicted. And she has, arguably, done more with a transplanted heart than anyone else, including the publication of this remarkable book."

Elle magazine reported that "…the crowning miracle is that she wrote this feisty, insightful, improbable book at all. Silverstein has cheated death to thrive in her post-transplant existence and to write about it with incredible courage, determination, self-scrutiny, and verve."

Larry King commented on his show, "The medical miracle is only part of her amazing story. The rest will surprise you. And inspire you and choke you up with tears and laughter. Sick Girl by Amy Silverstein - highly recommended."

Dr. Mehmet Oz called Sick Girl "spectacular" and Susan Cheever said, "Silverstein is an inspired storyteller. Her engaging language and sharp insight make Sick Girl both compelling and moving. Few of us undergo a heart transplant at twenty-five, but we can recognize our own stories in this incisive, unflinching look at life, love, and extraordinary courage."

Sick Girl was the first book ever serialized by U.S. News & World Report; the flood of reader response that followed was unprecedented in volume for any U.S. News health story, ever.

Amy Silverstein is currently working on her second book, a novel. She lives in New York City.
Books

Sick Girl