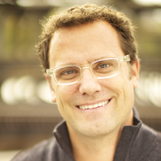 Andy Stefanovich
Corporate Curator, Provocateur and Author of Look at More: A Proven Approach to Innovation, Growth and Change
X
Program Descriptions
Museum mentality: As a society, we expect everyone else to do the inspiring. How often do we hear people complain about "wanting to be inspired" or "needing to get inspired?" Collectively, we walk through life with our heads down waiting for Inspiration to happen to us instead of making Inspiration happen for us. To break out of this funk, to spur growth, we need to develop a new approach to our lives and our businesses that can reignite the spark of Inspiration. That approach is called the Museum Mentality. Inspiration happens in one of three ways: by Delight, by Design, by Demand. Museums understand this implicitly (in some cases, explicitly). So much so that the principles are woven into their DNA. Museums understand the power of surprise and discovery (Delight). They deliberately structure their environment to increase our chances of being inspired by what hangs in the next room or around the next corner (Design). They recognize the concentrated force of curation and the need to preserve great works and meaningful moments (Demand). When they do it well, there is no better teacher. In this session, we will harness the power of a museum mentality applied to your corporate world.

Inspiration discipline: Why does real innovation elude so many companies? Because the focus is at the macro level exclusively: assets, processes, and outputs. Instead, organizations need a more holistic focus that includes inspiring its people to unleash inspiration at the individual micro level. This session helps participants engage, reflect, and collaborate as they learn how to drive innovation throughout the organization - from the inside out.

Connect-Collaborate-Culture Continuum: Andy will push your team out from traditional norms and expectations and provoke the mindset of a moving, innovative conversation. Using his characteristic storytelling style, Andy will lead a dynamic, interactive session exploring the Connect-Collaborate-Culture continuum. He will engage the leadership team and touch on a range of topics – from igniting passion to passion persuades, to brand is culture and culture is brand, all the way to team alignment, building on individual strengths, serving as a leader, and the cadence of communication. Andy will force all to look at more, gain a different perspective, generate ideas, purposefully disrupt conventional patterns, and ultimately drive innovation in the business forward, as a collective unit.

"5M" Lessons: Using his book, "Look at More", Andy will leverage the "5M" model as a way to create a constant language and frame around change, innovation, and growth work: Mood, Mindset, Mechanisms, Measurement, and Momentum. He can help you build out forward movement collectively; boost morale; strive for osmotic and downstream transport; change perspective; find passion; challenge assumptions; create environment for better output. In addition, he will jumpstart your team's mentality and activity around moving this process forward, which will serve as the catalyst for future approaches on their own.

Growth Platforms for Strategy and Innovation – 2016 and Beyond: Inspiration. Ideas. Innovation. Impact. Looking at 2016 and beyond at breakthrough and transformational thinking through the 4-I model. Designed around gaining perspective from the outside in, generating ideas with meaning and relevance, and ultimately, driving innovation forward through the creation of "on-ramps". The goal of this session is to empower your team to carry out an innovative agenda; drive business growth and strategy; and deliver real value towards a clear vision for a sustainable, successful organization with premier, quality services. So, what's next?
Andy has earned a reputation as one of the most disruptive and effective advisors in business. He is a thought leader and thinking partner to executives and their most critical ideas. Driving growth and change for Fortune 50 leaders, mid-cap companies, and adventurous entrepreneurs, Andy's dramatic results can be seen everywhere.

In his 20 years, Andy reinvented the leadership of GE, conceived a new version of Vegas through the Cosmopolitan Hotel, and reimagined a future for Gap. As a principal/creative at New Richmond Ventures, Andy connects and mentors aspiring socially-conscious entrepreneurs, empowering them with the knowledge to build successful businesses and social ventures that positively impact life. Using his real-world experience from Fortune 50 corporations, Andy applies the benefits of creative, remarkable thinking to transform new business ideas and practices for the next generation of companies.

Andy further shares his forward-thinking insights and strategies through his work as a renowned author and speaker. His first book, Look at More: cited in Ad Age as one of the "Top Ten Marketing Books You Should Have Read." A member of the Washington Speakers Bureau, Andy is frequently invited to deliver the keynote address at events such as, the FORTUNE Innovation Forum, GE Women's Conference, and THE Conference on Marketing. Andy is an active member of Ted, having spoken at 5 TEDx forums and recently curating Richmond's second annual TEDx event.

Andy is fully dedicated to bringing new and exciting ideas into the world. He likes to get people thinking. He likes to get people talking. He likes to provoke as much inspiration as he can. He believes in using the innovative and the unconventional to inspire executives and organizations at every level. For example, Andy may advise an executive to read children's books to become a better leader, or turn space into a museum exhibit to breathe more creativity into life, or to routinely carve out time and space away from the office to improve work performance. By curating experiences that inspire through direct, indirect, and tangential ways, Andy moves executives to view their business through a new lens reframed for growth.

An entrepreneur and community advocate at heart, Andy passionately engages in city renovation projects throughout the US. Whether it is designing a unique hotel experience in downtown Las Vegas, supporting a vibrant art scene in his current hometown of Richmond, or investing in the revival of Detroit's community, his beloved childhood home, Andy actively energizes businesses, builds communities, creates connections, and inspires life.
Books

Look at More