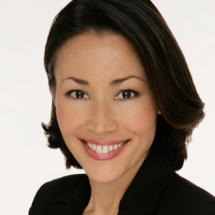 Ann Curry
Emmy Award-Winning Journalist
X
Program Descriptions
An Evening with Ann Curry: Being a Tour de Force of Determination and Making a Difference in the World

Ann Curry knows how to paint a picture of what determination looks like and feels like, because she fought her way to the top and she does not take any lesson for granted. From her years as a hotel maid to the trials and tribulations of starting in news when women were not given the same platform as men, to traveling to war torn corners of the world to report on the lives and deaths of the innocent, to becoming a mother and forever continuing to honor her own mother who taught her the meaning of determination, Ann Curry will share stories that will invigorate your audience to be fearless and inspire them to lead a passionate and bold life.
Why Book Ann Curry?


Emmy Award-Winning Journalist


National and International Correspondent for NBC News (2012-2015)


Anchor, NBC News' TODAY (1997-2012)
Award-winning journalist and photojournalist Ann Curry, a former NBC News Network anchor and international correspondent, has covered the wars in Syria, Darfur, Congo, the Central African Republic, Serbia, Lebanon, Israel, Afghanistan and Iraq, reported on nuclear tensions from North Korea and Iran. She has also reported humanitarian disasters, including the tsunamis in Japan and Southeast Asia, and the 2010 earthquake in Haiti, where her appeal via Twitter (@AnnCurry) is credited for helping to speed the arrival of humanitarian planes. She is also the force behind groundbreaking prime time hours on Climate Change, poverty in America and Iran.

Ann has conducted a long list of exclusive and news breaking interviews, which have included Iran's President Hassan Rouhani, President Ahmadinejad, President Khatami and Foreign Minister Zarif; Syria's President Bashar al-Assad and First Lady Asma al-Assad; Pakistan's Benazir Bhutto, President Ali Zadari and President Musharraf; Turkey's President Erdogan; Sudan's President Omar Bashir and South Sudan's President Salva Kiir; Liberia's President Ellen Johnson Sirleaf; Chad's President Idriss Deby; as well as U.S. Presidents George Prescott Bush, Bill Clinton, George Walker Bush and Barack Obama as well as Secretaries of State John Kerry and Hillary Clinton and First Lady Laura Bush, the Dalai Lama, George Clooney, Angelina Jolie, Brad Pitt, Elie Wiesel and Archbishop Desmond Tutu among others.

Ann has won 7 national news Emmys and numerous Edward R. Murrow awards, Gracie Allen Awards, National Headliner Awards. The Naacp has honored her with an Excellence in Reporting award. Women in Communications has awarded her a Matrix. Ann has also been given numerous humanitarian awards, including from Refugees International, Americares, Save the Children, and the Simon Wiesenthal Center, which awarded her a Medal of Valor, for her dedication to reporting about genocide.