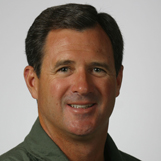 Anthony Bourke
Former F-16 Fighter Pilot; Expert on Communication, Leadership, and Teamwork
X
Program Descriptions
Communicating at Mach 2
A high impact Keynote focusing on how the world's most successful enterprises – where results truly matter — achieve peak performance by creating a culture of honest and open feedback. At the conclusion of this 45-60 minute multi-media presentation, your team will walk out the door with a clear understanding of the potential power of open feedback. They will also learn how a "feedback gap" can cripple an organization. Finally, they will see a clear path on how you can make open feedback an integral part of your culture.

Leading at Mach 2
All great leaders have a system for driving peak performance. This hard-charging, high-impact keynote offers your leaders the straightforward, critical tools that U.S. fighter pilots employ to lead their wingmen into the demanding environment of aerial combat. Learn how the best fighter squadrons and the best businesses in the world hire future leaders, how they then properly train those individuals, and continually promote a process of continuous improvement to stay one step ahead of the competition.

Selling at Mach 2
In addition to rising to the top of the aviation community, "AB" has built a business career on sales excellence. After achieving accolades as "Top Producer in the Western US" for a prominent lending institution, "AB" led a team of 40 professionals to grow revenue at a California based start-up company from $500,000 to $65M in just three years. A quintessential sales professional, "AB" will teach your people that just like fighter pilots, "great sales people are made… not born." He draws comprehensive parallels between what makes great fighter pilots and what makes great sales people. For organizations looking to develop a sales team of "Top Guns," this dynamic, interactive speech is a must!
Why Book Anthony Bourke?


As a leader and former fighter pilot, he takes the tools he learned and illustrates how they apply to business.
He has trained more than 50,000 managers and salespeople in team-building and effective communication.
Anthony "AB" Bourke is a highly experienced F-16 fighter pilot who has flown tactical missions in countries all over the world. He has accumulated more than 2,700 hours of flight time in numerous high performance aircraft and was one of the first pilots to fly his F-16 over New York City in the homeland defense efforts on September 11th.

Following his impressive military career, "AB" took the tools and techniques that made him one of our nation's premier fighter pilots and applied those to the competitive world of business. He ascended early in his career to become the top producing mortgage banker in the Western US for a prominent lending institution. His success in the mortgage industry led to a new opportunity at a California based start-up company where his team of 40 professionals dramatically grew revenue from $500,000 to $65M in three years.

Following these two endeavors, "AB" partnered with two other fighter pilots to form Afterburner Inc., a global management training company. "AB" served as Afterburner's CEO & President where for over a decade he combined his love of business with his passion for tactical aviation. Under Bourke's leadership, Afterburner grew into a best-in-class training company and was twice named one of Inc Magazine's 500 fastest growing companies.

As CEO & Founder of Mach 2 Consulting, Bourke brings his tactical knowledge and vast business experience to the forefront of the management training world. "AB" has travelled the globe sharing his message of peak performance with over 50,000 people in nine different countries, and is currently working on a book titled "The Art of The Debrief."