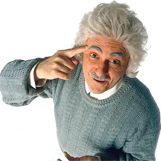 Arden Bercovitz
Einstein Alive! Change the Way You Think
Traveling From
California
X
Program Descriptions
A Day of Genius—The Einstein Way!
This presentations goal is to prepare your people to apply to their own work, the insights about thinking, as perfected by Albert Einstein. Dr. Bercovitz appears, in the guise of Einstein, to deliver an accelerated learning experience that's FUN, interactive, highly entertaining, intelligent and authentic. We can indeed reach and teach your savvy professionals with entertaining, informative, and effective ways to change their thinking.

Intelligent Change—The Einstein Way!
In character as Albert Einstein, Dr. Arden Bercovitz shares insights about how we think, and the time we take to do it. He shares information to help your people choose better tools for any thinking task, for better decisions and more successful outcomes. Motivation is important as Dr. B blends the latest science about how we think with insights and illustrative stories from Einstein's life. Add a good dose of humor, candor, and playfulness, and your people will be inspired to think like they never "thunk" before.

Change Your Thinking Today—The Einstein Way!
When you want better ideas from you employees in order to create breakthrough products or servicesand to stay ahead of your competitors, it's important to inspire them to think BIG! Dr. B shares simple tools and practical techniques that will lead you to new markets, extra sales, more satisfied customers and happier employees.

Discover a Diversity of Ideas—The Einstein Way!
In today's competitive and changing world, a diversity of ideas in your path to profits. Diversity issues go beyond race and gender. This presentation will inspire your organization to create a culture that learns to trust its differences. Help your people get unstuck form outmoded ways of doing, and motivate them to create a work environment that thrives because everyone contributes.

Strudel for the Noodle—The Einstein Way!
"Einstein Life" is the perfect mental aperitif when your needs are more inspirational an humorous than heady. Albert's stories about absent mindedness, his reliance on intuition, his candor and total lack of pretense will charm your banqueters, especially the heady ones.
Why Book Arden Bercovitz?


Dr. Bercovitz, in character as Albert Einstein, will take your people on a voyage of discovery with stories and strategies designed to inspire innovation and revive a spirit of imagination.
He'll give your audience tools to think bigger and better, produce more innovative ideas, and work more intelligently while playfully conveying ideas that inspire people to break down barriers, escape old and limiting habits, and adopt new ways of thinking.
Arden Bercovitz is that someone unique you've been looking for when you need a speaker to spark imaginations and catalyze the spirit for change throughout your business. Dr. Arden Bercovitz, in character as Albert Einstein, shares information that will help your people embrace new ways of thinking and acting, resulting in positive changes that will impact your entire organization. He is particularly well-suited for groups in the technology and life science industries.

Knowledge workers today are bombarded with mind-boggling changes in business processes, new products, tougher competitors and new technologies. Dr. B helps companies and organizations to break down mental barriers and overcome resistance to change, opening up to new possibilities and new ways of thinking and acting.

Want bigger and more diverse ideas from your employees, need bolder products or services to stay ahead of your competitors? It's important to inspire your knowledge workers to think BIG! Dr. B shares simple tools and practical techniques that lead you to new markets, extra sales, more satisfied customers and happier employees.

Dr. B creates a magical experience that works as well in a ballroom as in a boardroom. He clicks with organization-wide audiences as well as your most sophisticated people - knowledge workers, executives, customers and clients. Style and substance, colorful anecdotes, metaphors and intelligent humor set the stage for extraordinary progress and stress-reducing fun. He will help your organization to grow strong and prosperous by teaching your people to be resourceful, resilient, reliable, and open to new ideas.

Dr. Bercovitz speaks your language and is familiar with your challenges. A Ph.D. scientist, Dr. B tailors his material to fit your organization's current needs. His keynotes and workshops are designed to provide your knowledge workers with practical tools, strategies, and information to seize new business opportunities, resolve problems better, adapt to change, and think BIGGER!

One Scientist Speaking Through A Scientist….Dr. Bercovitz captures the essence of Dr. Einstein because he's also a scientist, with a love of science and a spirit of curiosity for new ideas. His Ph.D. is in Reproductive Endocrinology from the University of Missouri, Columbia. His academic training was multi-disciplinary, with emphasis on the environment and nutrition. Dr. B worked for nearly thirteen years as a reproductive endocrinologist for the Center for Research for Endangered Species at the world famous San Diego Zoo.

He's experienced with various facets of the learning process: holding a lifetime teaching credential; teaching at elementary and college levels; serving as Dean of Learning Assessment for a private university; speaking to Fortune 1000 companies, government and association clients; and receiving (1998) certification as a Speaking Professional (CSP) by the National Speakers Association, a designation earned by fewer than 10% of all professional members.

Technology and life science industry clients include BioGen, CR Bard, Meridian Bioscience, Pfizer Global R & D, Eastman Chemical, Edwards High Vacuum, Illinois Tool Works, Unilever, National Reconnaissance Office.

His very appearance, in character as Albert Einstein, indicates that your business is ready for significant change, even a transformation of culture, thoughts and actions. Yes, you can have fun and get innovative work done.