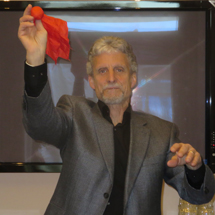 Art Turock
Authority In "Breakthrough Performance"
Traveling From
Washington
X
Program Descriptions
Competent is Not an Option
Adapt the Talent Development Game Plan of Sports to Build Your All-Star Leadership Team.
Leadership talent wins. What if your organization's work process was designed so your leaders would be building their capabilities in the midst of real work getting done, and become better equipped to produce future results? With this unprecedented productivity, the outcome is a leadership team of 100% A-players. Meanwhile your competition is consumed getting daily operations done and ends up producing competent leaders who never get any better.

Creating Sales Calls Customers Would Pay For
Conceive elite standards for selling. Create A-player sales managers. Increase sales revenue in less time and effort.
What would you need to do to get your customers to say, "That was such a great sales call, I would have paid for it?" To elicit that rave review, your sales team needs to realize that asking customers what they want and giving it to them is merely competent performance. Transactional selling and consultative selling are responsive to buyer's obvious needs that they can easily articulate. So what constitutes elite sales performance? Providing customers valuable solutions which they would never even think to ask for. To aspire and deliver this standout quality of selling takes A-player sales managers.

Coaching with a Healthy Disregard for the Unreasonable
Turn performance plateaus into breakthrough opportunities. Help your team enlarge their power to take action.
Warning! The way most managers hold team members accountable encourages them to be victims. Second warning! Most organizations consider their employees to be accountable for their actions, choices and results, but ignore the most important factor—accountability for their mindset. Elite coaching which aims to cause a mindset shift that expands a coachee's normal sense of reasonable sense of effort and risk. By taking accountability for their mindset, individuals get freed up up to initiate choices and actions they never considered or ruled out as possibilities.

Change Mastery: Embracing the Freedom of Marvelously Uncertain Times
Turn organizational change initiatives into leadership development opportunities. Gain access to your untapped capacity for mastering change.
In an ever-changing business environment, everyone needs be prepared to take on new responsibilities and learn faster. Many change initiatives require team members to master tasks they don't feel like doing and initially they aren't very good at performing. Change masters experience organizational change in a way that frees up their peak performance. They experience far more excitement than fear. They focus on producing vital results instead of attempting to hold on to illusive security.
Why Book Art Turock?


He helps develop good managers into great leaders by turning performance plateaus into breakthrough opportunities.
He provides a unique package of services that leaves audiences with the right mindset, work process, and leadership development skills.
Art Turock is an elite performance game changer who helps clients develop A-player leaders, achieve unprecedented productivity, and ignite their hidden leadership capacity. His professional engagements include keynote speeches, seminars, executive coaching, and year-long Mission Unreasonable Projects.

Art has been a valued resource to over 120 Fortune 500 companies, including Merck, IBM, 3M, and AT&T. He has spoken to hundreds of trade associations and executive education groups such as American Society of Association Executives, Young President's, and Vistage. Articles by Art and references to his work have appeared in Success, USA Today, Fortune, Readers Digest, Association Management, Chicken Soup for the Soul at Work, Bloomberg News, CNN, Dr. Anders Ericsson's book Peak: Secrets of the New Science of Expertise, and even a Starbuck's cup in "The Way I See It" series.

In the field of leadership development, Art Turock's diverse skill set is tantamount to what baseball calls a "5-tool player" who is extremely talented in all the core skills of position players. As an elite performance game-changer, Art can draw upon any of five skill sets–speaking, training, coaching, meeting design, and project leadership. The most all-encompassing piece of Art's work incorporating all five of these skills is six to twelve month, Mission Unreasonable Projects.

Art's viewpoint about talent development in business is heavily influenced by his sports background. Art took up sprinting at age 56 and pentathlon at age 61. In pentathlon, Art competes as a five-event athlete, including long jump, 200-meter dash, javelin, discus, and 1500-meter run. In 2015 his pentathlon score achieved the All American Standard for his competitive age group and won a bronze medal at the USA Track & Field Masters Championship and a #8 World Ranking. In 2016, Art won the silver medal.

Over a period of three years, Art spent a total of eleven days immersed in fantasy camps and attending team practices to study the "Win Forever" coaching philosophy of Pete Carroll and the USC Trojans.

By learning world-class talent development methods in sports, Art conceived the Learning-While-Working Process for building leadership capabilities while real work is getting done.

Art Turock has written three books, Invent Business Opportunities No One Else Can Imagine and Getting Physical. How to Stick With Your Exercise Program. And his most recent book, Competent is Not an Option: Build an Elite Leadership Team Following the Talent Development Game Plan of Sports Champions. Art's latest book has been endorsed by former Starbuck's CEO, Jim Donald, management guru, Dr. Ken Blanchard, and sports figures like Don Shula and Billy Beane.

At age 26, Art's first leadership experience involved being Training Project Coordinator for the Interpersonal Skills Training Project based at the University of Iowa College of Medicine. His responsibilities include selecting, training, and developing a cadre of trainers from a statewide community mental health system.

Art Turock graduated from Union College (BS) and the University of Florida (M.Ed.). He is a member of Phi Beta Kappa and USA Track & Field Association.