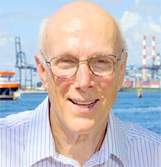 Arthur Hughes
Expert in Database Marketing Strategy
X
Program Descriptions
What Works (and what doesn't work) in Database Marketing
Integrating All Direct Marketing Channels to Build Customer Loyalty: A BMW Case Study
Using Lifetime Value to Determine Your Marketing Strategy
Why Databases Fail: Nine Deadly Mistakes that will Ruin your Chances for Success
How to Build Lifetime Profitable Relationships with your Customers Through Database Marketing and the Internet
Marketing Strategies, Customer Loyalty & the Web
Letting Them Come Behind the Counter: B to B Profitability on the Web
Why Book Arthur Hughes?


Arthur is a recognized expert in e-mail, database and telecom marketing strategy and provides advice and consultation to major corporations on database and email marketing tactics.
He walks audiences through a step by step approach to implementing database marketing essentials to improve e-mails marketing returns intelligently.
Arthur Hughes serves as vice president/ Solutions Architect for KnowledgeBase Marketing. In this role he is responsible for creating database marketing, strategic and analytic solutions for major American companies. He has been designing and maintaining marketing databases for Fortune 500 companies and others for the past twenty years. His database experience includes catalogers, retailers, restaurants, telephone companies, insurance, banks, pharmaceuticals, package goods, software and computer manufacturers, resorts, hotels, automobiles, and non-profit fund-raisers.

A graduate of Princeton University with a Masters in Public Affairs, Arthur taught economics at the University of Maryland for 32 years. When it comes to database marketing, he wrote the book! He is the author of The Complete Database Marketer.2nd Ed. (McGraw Hill 1996), Strategic Database Marketing 3rd ed. (McGraw Hill 2006) and The Customer Loyalty Solution (McGraw Hill 2003).

Arthur is the founder of The Database Marketing Institute, Ltd. Through the Institute, he gave 28 two day seminars on Database Marketing from 1993 to 2000 with Dr. Paul Wang of Northwestern University. Graduates of the Institute's training include 1,200 senior marketers from major US corporations.

Arthur's articles appear regularly in leading industry publications. His consulting assignments and lectures on marketing and economics have taken place in the U. S., Canada, Europe, Latin America and Asia. He has been a key speaker in marketing conferences in the U.S., Canada, U.K., Japan, Taiwan, Australia, New Zealand, Brazil, Venezuela, Malaysia and Portugal.