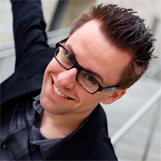 Arthur Trace
Highly Acclaimed Magician
Traveling From
California
X
Program Descriptions
THE ARTFUL DECEPTION OF ARTHUR TRACE
This stage show is a great choice if you're in need of after dinner or headline entertainment for a large audience. Depending upon your corporate magician needs, Arthur's show can run the duration of 30, 45, or 60 minutes and is a popular choice when his clients need to entertain VIPs at banquets, meetings, award ceremonies, or any event that's in need of world-class magic that's delivered with a humorous, yet elegant touch.
ARTHUR UP CLOSE
Arthur's close-up magic, performed with playing cards, coins, and borrowed objects, and parts of his stage show can be tailored to entertain intimate crowds of up to 40 people. Guests will be amazed by interactive sleight of hand and be the stars of the show as the magic happens to them.
This type of magic is also a great way to attract crowds to your trade show booth. If you're looking to stand out among your competitors then Arthur can customize his corporate magic to communicate your key messages and deliver an amazing performance in order to make sure attendees remember your products and/ or services.
STROLLING SHOW
Strolling magic is great for cocktail parties, luncheons, hospitality suites, or just about any event where you're looking to have corporate entertainment, but don't want guests to sit down and watch a stage show.
Arthur will mingle with your guests and perform his unique and interactive close-up magic for them, one small group at a time. Often, the magic happens right in the spectator's hands, which will cause your VIPs to react in excitement.
Why Book Arthur Trace?


Arthur is more than a magician – he's a magical artist who will hold your audience spellbound for his entire show - his ingenious talent is enormous as is his versatility.
A world-class magic and a fun personality, Arthur makes events unforgettable and is guaranteed to have your audience laughing and astonished!
Arthur Trace has taken magical entertainment in a new direction of performance art: expressing his artistic style through original presentations involving art, philosophy, and altering the laws of nature.

Highly acclaimed by his peers as "one of the most unique acts in the world of magic today," Arthur Trace is the eighth magician in the history of magic to be awarded The International Brotherhood of Magicians "Gold Medal International Award of Excellence." In 2006 he became a FISM award winner at the World Championship of Magic in Stockholm. In 2007 millions of television viewers watched as Arthur was awarded the "Best Cabaret Magic" award at the World Magic Awards on My Network TV.

Although he makes his home in Chicago, Arthur Trace is a regular performer at Hollywood's world-famous Magic Castle and New York's Off-Broadway hit Monday Night Magic. When not performing in theatrical productions, he can be found entertaining audiences at corporate and private events around the world.