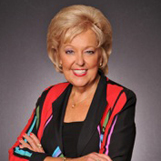 Barbara Glanz
Employee Motivation Expert, Spreading Contagious Enthusiasm ™
X
Program Descriptions
Spreading Contagious Enthusiasm™ – Creating Workplaces of Passion, Purpose and Productivity"
Current research shows that only about 12 to 15% of American workers are giving their very best to their jobs. 8 to 10% are burned out with no life. However, that leaves 75 – 80% of our workforce who are just doing enough to get by. Just imagine what could happen to the productivity in your workplace if you could inspire those workers to do their very best!

Raise morale, reduce turnover, increase productivity, and have more fun at work – the wonderful news is that all this can occur in your workplace with very little cost. In this presentation you will learn how to create a work environment where people treat one another like valuable human beings with a sense of mission that their work is important and where appreciation and joy are present, no matter how serious the work may be.

Barbara will provide dozens of real-life, creative, low cost, immediately applicable ideas you can implement in your own workplace using the acronym CARE:

C = Creative Communication
A = Atmosphere and Appreciation for All
R = Respect and Reason for Being
E = Empathy and Enthusiasm

She will spread her "contagious enthusiasm" to maximize personal productivity and organizational success, and each participant will leave with a powerful understanding of the difference he or she can make every single day!

The Simple Truths of Service Inspired by Johnny the Bagger®
Based on an unforgettable story about a young man with Down Syndrome who changed the culture of an entire organization by being creative and giving the customers more than they expected, this program presents ten simple truths of service that will help organizations and individuals become more customer-focused, both internally and externally. With her unique combination of content and heart, Barbara will share research, stories, models, and action ideas based on these ten simple truths to encourage each person that he/she can make a difference every single day!

The Simple Truths of Appreciation
In these tough economic times of having to do more with less, it is critical to find other ways besides money to keep employees engaged. Sixty-five percent of American workers said they received NO appreciation all last year for the good work they had done, yet the second most important thing people want from their jobs is full appreciation. In this inspiring session Barbara will share ten simple truths of appreciation as well as dozens of creative ways, at little or no cost, to keep employees happy and productive and which they can immediately apply in their work and in their lives. The beauty of appreciation is that we can each give it to anyone we choose for no cost except our awareness and a few moments of our time.

Change "Exhausted, Confused and Ticked Off — Hope for a New Beginning When Change Has Done You In!"
Change is rampant in our world today, and many people struggle with how to handle the constant changes in their work and lives. They are exhausted, confused and ticked off! Resistance to change, we have discovered, is not about the head as much as the heart, less about facts than it is about feelings. Workers must learn not only to manage the processes of change but also the emotional aspects of dealing with change.

In order for people to move forward, they must learn to let go of the old ways and adjust to new ways of work and life. This practical, inspiring presentation will help people better understand the change process as well as their feelings in the midst of change. It will include coping mechanisms and a CONTROL INVENTORY™ to use as a strategic, concrete tool to manage change and to help them gain more control and perform at a higher level in a dynamic work environment.
Why Book Barbara Glanz?


She inspires and motivates her audiences to think outside the box, to develop and share their creative ideas for greater success while promoting the importance of teamwork and a sense of shared responsibility.
Barbara sees her mission as "Spreading Contagious Enthusiasm" as she speaks on business communication, customer service, and employee loyalty.


Is your organization experiencing overwhelming change, high employee turnover and low morale, increases in customer complaints, or burnout from having to do more with less? Are your employees struggling to find a balance between their work and home lives or do they simply need a boost of positive energy? If so, Barbara Glanz can help you!
Barbara Glanz, a member of the prestigious Speaker Hall of Fame and one of fewer than 200 female Certified Speaking Professionals worldwide, works with organizations that want to improve morale, retention, and service and with people who want to rediscover the joy in their work and in their lives.

Using her Master's degree in Adult Learning, she is the first speaker on record to have spoken on all 7 continents and in all 50 states to organizations as diverse as Nordstrom, Honda, Southwest Airlines, Bank of America, IBM, Kaiser Permanente, Hallmark, the US Dept. of Energy, Hilton Hotels, Publix Supermarkets, Disney, the State of Michigan, Chick-fil-A, and the Singapore Security Police.

Meetings & Conventions Magazine voted her "best keynote presenter you have heard or used," and she was recently selected as a "Legend of the Speaking Profession". She has been one of the top ten speakers since 1997 at the Society for Human Resource Management's international convention.

Barbara is the author of twelve books, including The Simple Truths of Service Inspired by Johnny the Bagger® (co-authored with Ken Blanchard); The Simple Truths of Appreciation; 180 Ways to Spread Contagious Enthusiasm™; Balancing Acts; Handle with CARE – Motivating and Retaining Employees; CARE Packages for the Workplace; CARE Packages for the Home; and CARE Packages for your Customers.

Known as the business speaker who speaks to your heart as well as to your head, she lives and breathes her personal motto, "Spreading Contagious Enthusiasm.™" She lives on the beach in Sarasota, Florida, and adores her four grandchildren, Gavin, Kinsey, Owen and Simon.
Books