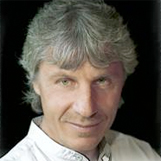 Barry Jones
Incredible Comedy and Stage Hypnotist
Traveling From
California
X
Program Descriptions
Incredbile Comedy - Hypnosis Show: The Ultimate Experience in Comedy Entertainment
Why Book Barry Jones?


Barry founded the San Diego School of Stage Hypnosis and is recognized by his peers as an innovator of many of the techniques used by professional stage hypnotists today.
Performing hypnosis shows at fairs all over the United States have given Barry a wealth and diversity of experience that enables him to tailor his show to your event needs.
Barry Jones was born in England and obtained his teaching credentials at Newcastle University. He completed his graduate work in the United States and has taught and coached at universities and colleges in San Diego, Orange County, and Los Angeles. As a competitor in the Ironman Triathlon in Hawaii, Barry became aware of the "altered state of mind" that it took to participate in such events. Subsequently, in a 21-hour biathlon from Death Valley to the peak of Mt Whitney, he experienced a 4 hour loss of time. Fascinated by the trance state, he turned his studies to hypnosis. Barry is a certified clinical hypnotherapist with advanced clinical education through the University of California San Diego (The course curriculum is set forth through the American Society of Clinical Hypnosis and offered to physicians and health professionals as an adjunct to traditional medicine). Equally at home in the University and College environment, he has performed his comedy hypnosis show for venues throughout the US as well as OXFORD and CAMBRIDGE in England; and in his 2002 tour of NEW ZEALAND where he performed at student orientations at MASSEY, CANTERBURY, VICTORIA and OTAGO University.