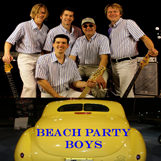 Beach Party Boys
Beach Boys Cover Band
Traveling From
Ontario, Canada
Beach Party Boys is the story of the Beach Boys – a fun and interactive show. They reproduce the authentic look, vocal harmony, and musical instrumentation of the Beach Boys themselves.

All of the members of the Beach Party Boys have played in other summer shows including Kokomo Beach Band, Endless Summer, Surf's Up, and the Beach Dudes. If there ever was a Beach Boys super tribute this is it!

Audiences will be singing along to Fun Fun Fun, Barbara Ann, Surfin' USA, I Get Around, Good Vibrations, and all of the great hot rod songs and summer hits.