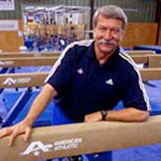 Bela Karolyi
Gymnastics Analyst for NBC Sports
X
Program Descriptions
Customized Presentations
Bela Karolyi can tailor his presentation to fit the audience to which he is speaking. Bela speaks about what it's like to mold young women into Olympians. It translates nicely for corporations about what it takes to put individual goals together and create a team for one common goal.
Why Book Bela Karolyi?


As one of the most successful coaches in gymnastics history, Bela's presentations touch on his many career highlights as well as offer inspiration for achieving at the highest level, with advice that will translate to any endeavor.
His coaching efforts have produced 28 Olympians, nine Olympic Champions, 15 World Champions, 12 European medalists and 6 U.S. National Champion.
Bela Karolyi, arguably the most successful coach in the history of his sport and one of its most recognized personalities, has coached and trained world-renowned gymnasts for the past eight Olympics. Karolyi made his broadcast debut as a gymnastics analyst for NBC's broadcast of the Beijing Olympic Games.

Karolyi's innovative coaching efforts have produced numerous Olympians, world champions, European medalists and U.S. national champions in 40 years of coaching in both his native Romania and the United States.

Karolyi began his illustrious career coaching for the Romanian national team starting in the early 1960's, bringing the Romanian women's gymnastics team into the international spotlight. He has also transformed gymnastics, a sport traditionally performed by women in their 20's or later, by developing promising young gymnasts and training them from an early age. On his team was Nadia Comaneci, a young gymnast who astounded the world by achieving the first perfect scores at the Montreal Olympic Games in 1976. The following years, Karolyi's coaching efforts helped the Romanian National Team to win repeated European and World Championship titles.

He was the head coach of the Romanian team at the 1980 Moscow Olympic Games. However, during the boycotted Olympic Games, Karolyi clashed with the Soviet organizers and International Federation officials regarding biased judging. Upon returning to his homeland, the Romanian Communist Party officials qualified his involvement with the judging controversy as offensive against the first "Communist" Olympic Games. In 1981, he brought the Romanian team to the United States for an exhibition tour, but decided to remain in the United States and requested political asylum.

With Karolyi coaching in the United States, the American gymnastics program began to reflect his dynamic approach. Many observers have gone so far as to say that the increased competitiveness of American's female gymnasts vis a vis gymnasts from Romania and the former Soviet Union, who have traditionally dominated the sport, is largely attributable to Karolyi. As Sporting News once said, "Since leaving Romania 11 years ago, Bela Karolyi has been almost solely responsible for raising the level of women's gymnastics in the United States from mediocre to elite." Karolyi coached four U.S. Olympic teams from 1984 to 1996 and served as the national team coordinator for the 2000 USA Olympic Gymnastics Team.

In the 1984 Los Angeles Olympics, Karolyi's first American Olympics, his students Mary Lou Retton and Julianne McNamara both won Olympic gold medals, American firsts. Retton became the darling of the 1984 Olympic Games, winning the prestigious All-Around. In 1991, Karolyi's coaching efforts helped Kim Zmeskal become the very first U.S. All-Around World Champion for USA. In 1996, Karolyi's "magnificent seven," captured the Olympic gold in the Women's Team Competition in a dynamic, captivating and dramatic final. Through a courageous final performance, Kerri Strug, though injured, still performed a vault and anchored the gold for Team USA.

In 2000, Karolyi was asked by the USA Gymnastics Federation to develop and introduce a new preparation system for the national team. He named the new system The Semi-Centralized American National Team Training Program, which produced an unprecedented level of overall success for Team USA in the following years.

In 1997, Karolyi was inducted into the International Gymnastics Hall of Fame, USA Gymnastics Hall of Fame and Texas Sports Hall of Fame.

In addition to coaching, Karolyi co-authored Mary Lou: Creating an Olympic Champion, with John Powers and Mary Lou Retton in 1984. Ten years later, Karolyi wrote a personal memoir, "Feel No Fear: the Power, Passion, and Politics of a Life in Gymnastics" with Nancy Ann Richardson.

Karolyi and his wife Martha reside at their 2,000-acre ranch outside of Houston. They have three daughters, Andrea, Julia and Kristina. During the summer, Bela and Martha train over 3,000 gymnasts at their famous Karolyi's Gymnastics Summer Camp. The ranch is also designated as the USA National Team Training Center.