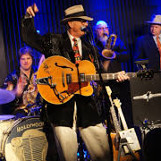 Bellevue Cadillac
Jazz, Gospel, Blues & Soul, Swing on top of Rock 'n Roll
Traveling From
Massachusetts
X
Program Descriptions
Jazz, Gospel, Blues & Soul, Swing on top of Rock 'n Roll
Why Book Bellevue Cadillac?


The Boston-based,jump-blues band taps into all the raw energy and fun that R&B has to offer, enriched by strong vocals and insightful lyrics filled with social commentary.
Bellevue Cadillac one of the best bands in the country, combining elements of big band jazz, classic sixties R&B, blues, pop, cartoon and boogie woogie.
Bellevue Cadillac is not your average band. Bellevue Cadillac is a multi-generational musical experience filled with joy, wonder, comedy, audience participation and the zaniest stage show currently on tour!

Imagine Cab Calloway, James Brow, Barry White, Sam and Dave, Lyle Lovett, Brian Setzer, Garth Brooks, and Steve Martin complete with flying trombones, spinning trumpets, and sizzling saxophones leaping off the stage and dancing with the crowd! Everybody gets a seat in the back of this big Cadillac as it cruises from 20s Hot Jazz to New Orleans R&B, up through the delta blues into Kansas City jump and the swing era of the 30s and 40s.

Next stop 50s R&B, Stax, Muscle Shoals, and Memphis. Take Route 66 on up to Philly Soul, a little Doo Wop and on to New York City for a wild night in Harlem. All Aboard for Motown and points west, Hollywood swingin' and California Surf, a little Java Jive and way down south for some Calypso and Latin Soul. Bellevue Cadillac is Jazz, Gospel, Blues and Soul, Swing on top of Rock and Roll. Whew!

Wildly original yet familiar, Bellevue Cadillac is the best vehicle for this once in a lifetime road trip. Like a Cadillac, the Bellevue experience is a big luxurious, powerful ride through America's rich history of cars and rock 'n roll, together they make it a musical experience you'll never forget.

You've heard Bellevue Cadillac's music in major motion pictures like Shallow Hal and the TV shows The Sopranos, Las Vegas, Ed, Sex and the City, Touched by an Angel, Brimstone, and Good and Evil. Bellevue Cadillac performances have been seen on Access Hollywood, CNN Showbiz, Hard Copy, and VH1.

To date, Bellevue Cadillac has songs on 17 compilation cds with such artists as Duke Ellington, Ella Fitzgerald, Louis Prima, Louis Jordan, Sammy Davis Jr., Peggy Lee, Brian Setzer, Joe Jackson, Cab Calloway, Mel Torme, Rita Coolidge, Eva Cassidy, Big Bad Voodoo Daddy, and others.