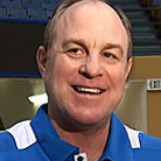 Ben Howland
Head Coach of the 2005-2006 NCAA Basketball Finalist UCLA Bruins
Traveling From
California
X
Program Descriptions
Building Championship Teams
Known as one of the best NCAA basketball coaches in the country, Coach Howland speaks about how his coaching skills and principles can be used in all aspects of life and what it takes to make a winning team, the importance of teamwork, and winning.
Why Book Ben Howland?


For nearly a decade, Ben has been the driving force behind one of the most successful men's basketball teams in the country as the head coach for the University of California at Los Angeles Bruins.
As one of the best coaches in the country Ben makes people listen up and translates well to the business world with his great knowledge of execution and accomplishment.
From all his success on the court, people know who he is and want to learn from the man behind all the success.
On the brink of the 2005-2006 NCAA National Championship game, UCLA Coach Ben Howland has become one of the great masters of his profession. A recent Consensus National Coach of the Year with the Pittsburgh Panthers and now, in only his third season as coach of the storied Bruins, Howland has his team on the verge of greatness in one of the craziest March Madness tournaments in history.

After reaching the NCAA tourney in 2005, Howland joined an elite group of coaches to ever lead three different schools to the 'Big Dance' and is considered one of the great motivators and teachers in college athletics. On his success, Howland says, "It's nice to be recognized, but you can never rest on what you've done. You have to keep working, keep pushing to get better. You've got to have good players. No one understands that more than me. I hope to think every year I'm a better coach than I was the year before. You hope to always improve."

An exceptional speaker, Ben Howland understands that championship teams are built on intensity, teamwork and communication and his presentations reflect this philosophy. He shares with audiences the importance of building strong management teams and trusting his own ability to teach. He discusses how to learn from failure, to look for character in talent, to align the goals of individuals with the goals of the team, and to celebrate victories throughout the journey.

Admired by his peers, respected by his players, Ben Howland is without question one of the great teachers and motivators in sports. Ben's philosophies transcend college athletics to provide proven insights for individuals and organizations striving for success.