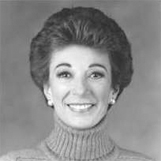 Betty Rollin
Reporter, Author, Breast Cancer Survivor
X
Program Descriptions
The Bright Side
Based on Ms. Rollin's new book, Here's the Bright Side (of Failure, Fear, Cancer, Divorce and Other Bum Raps.)

The Bright Side of Breast Cancer
A factual, funny and uplifting talk about what Ms. Rollin has learned from the experience of having cancer and about progress that has been made to treat the disease.

Making the Best of the Worst
Turning life's disasters around (includes illness).
We'd of course prefer awful things didn't happen to us, but when they do, there are ways to turn them around.

What Patients Want
(a talk designed for physicians, medical students and nurses)
What we patients want in terms of care, compassion and manners! If the news is bad, how we like it delivered.

Death and Dying
End of life decisions. Should physician-assisted suicide be an option?
Why Book Betty Rollin?
Betty is an inspirational woman who has overcome adversity and now lives an inspiring life of health and wellness
She is a TV correspondent, author, and breast cancer and mastectomy survivor. She lives to spread her message of hope, redemption, and love with all audiences
Betty Rollin is a TV correspondent, an accomplished author and a captivating speaker. A former correspondent for NBC News, her special reports for Nightly News included a series on the Native Americans of Pine Ridge, South Dakota, which won both the duPont and Emmy awards. She now contributes reports for PBS' Religion and Ethics Newsweekly.

Rollin is the author of seven books, including First, You Cry, a moving story - the first of its kind - about her breast cancer and mastectomy. Published in 1976 and re-published in 2000 in honor of the author's 25th "cancer anniversary", it received wide critical acclaim and was made into a television movie starring Mary Tyler Moore as Ms. Rollin.

Her most recent book, published by Random House is Here's the Bright Side: of Failure, Fear, Cancer, Divorce and other Bum Raps.

Her bestseller Last Wish, published in 1985 and republished in 1998 deals with the suicide of her terminally ill mother. One critic called it "a document of personal compassion and public importance." The book has been published in 18 foreign countries and was made into a TV movie, which aired on ABC in 1992, starring Patty Duke and Maureen Stapleton.

Rollin first joined NBC in 1972 as a reporter for the newsmagazine, Chronolog and during 1972 she was the on-air theater critic for WNBC-TV, New York. She later created and anchored a series of NBC News's special programs for and about women titled Women Like Us. In January of 1973 she was named a correspondent for NBC News. In this position, she reported on human-interest stories, which remain her main focus as a journalist. In 1982 she became a contributing correspondent for ABC News Nightline. She left that position to write Last Wish and returned to NBC News in 1984.

Prior to her television career, Betty Rollin was an associate feature editor and staff writer for Vogue magazine. Following that, she became a senior editor for Look magazine, where she remained until the publication was discontinued in 1971. She has contributed articles to many national magazines, including The New York Times where she was also a Hers columnist.

A native New Yorker, Rollin is a graduate of Fieldston Ethical Culture School in Riverdale, NY and Sarah Lawrence College. She and her husband, Dr. Harold M. Edwards, a mathematician, live in Manhattan.