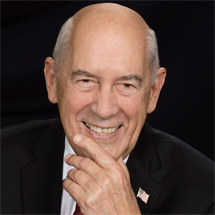 Bill Rasmussen
The Founder of ESPN
X
Program Descriptions
ADVERSITY– DEAL WITH IT!
Belligerent and legacy industry giants said "It can't be done". Rasmussen did it, with his vision, passion and leadership he disrupted the television marketplace forever, by starting ESPN – a 24 hour sports channel that is now ubiquitous. His enthusiasm and risk-taking resulted in a daring and creative success beyond his wildest imagination. Rasmussen will captivate your group with his storytelling par excellence.
It is safe to say that Bill Rasmussen changed the face of sports, and the face of television. His brainstorm for a 24-hour cable sports television station, born out of adversity, has become the Worldwide Leader in Sports, ESPN.

Rasmussen is the man who had the dream, the founder of ESPN.

Jim Miller, the co-author of the recent best-selling book, Those Guys Have All The Fun: Inside the World of ESPN, told John Ourand of the Sports Business Journal that "this is a guy whose idea gave birth to, arguably, the most successful media story of our time."

Rasmussen founded ESPN in the summer of 1978. He had his innovative brainstorm for an all-sports cable TV network within days of his firing by the New England Whalers of the World Hockey Association on Memorial Day weekend. A former radio and television sports broadcaster, Rasmussen had been the Whalers Communications Director but when the Whalers didn't make the 1978 WHA playoffs, Rasmussen and most of the front office staff were fired.

His idea for an all-sports cable TV network captured his imagination, and he incorporated the fledgling network on July 14, 1978. He had already begun to seek out cable television companies, sponsors, investors and partners. With an idea that was truly ahead of its time, and running out of cash, Rasmussen found one investor who believed in the concept in February, 1979, and by September 7, 1979, ESPN was on the air for the first time, 14 months from Rasmussen's moment of inspiration.

A life-long entrepreneur and sports fan, Rasmussen's innovations in advertising, sports and broadcasting are numerous and include not only the creation of ESPN, but also the concept for "Sports Center," wall-to-wall coverage of NCAA regular- season and "March Madness" college basketball, and coverage of the College World Series. He broke the advertising barrier to cable television by signing Anheuser Busch to the largest cable TV advertising contract ever.

Rasmussen's entrepreneurial daring, his irrepressible enthusiasm and a dash of good luck gave the world the first 24-hour television network. Once unleashed upon sports fans, ESPN's impact forever changed the way we watch television.

Rasmussen is the author of the best-selling book, Sports Junkies Rejoice! The Birth of ESPN. Rasmussen tells the inside story of the birth of ESPN in the book, which was recently published in a brand-new paperback edition, and is also available in digital format for most electronic reading devices.
Books

Sports Junkies Rejoice