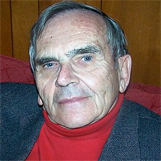 Bill Rothschild
Strategist, Consultant, Author and Teacher
Traveling From
Connecticut
X
Program Descriptions
The Art and Science of Putting It All Together
From Risk Takers to Undertakers – Selecting the Right Leader and Team
"Just In-Time/ Outsourcing" – People Strategies Don't Work!
Since 1984, Bill Rothschild has led his own consulting firm, Rothschild Strategies Unlimited, LLC, specializing in strategic leadership. Rothschild avoids doing traditional consulting studies but rather works with CEOs and his or her management team, over a year period, to enhance strategic thinking, decision making and implementation skills and know how. His objective to teach the team how to use his unique processes on their own and use the intelligence they have to develop viable strategies and implementation plans and then to improve the strategies as they progress.

Before founding Rothschild Strategies, Rothschild was the Corporate Strategist at GE from 1981-1983, and was responsible for developing the company's first market based strategic plan. For over two decades, he held a number of executive positions at GE, including the leading of an internal strategic planning consulting practice to serve GE business units, customers and suppliers. He led the project that created GE's strategic thinking processes and then taught them in customized workshops to all of the GE senior executives and professionals the art and science of strategic thinking, decision making and planning.

Other assignments included marketing, human resources, finance and manufacturing in a number of business units and corporate organizations. This hands-on experience has permitted him to translate grand strategies into pragmatic, do-able programs and actions.

Rothschild has published five books, numerous articles and most recently developed a unique combination of tutor and software package, StrategyLeader ® to permit his clients and individuals to use his processes and simultaneously develop effective graphics and documents.

His books include: Putting It All Together: A Guide to Strategic Thinking, Strategic Alternatives, How to Gain and Maintain the Competitive Advantage, and Risktaker, Caretaker, Surgeon and Undertaker: The Four Faces of Strategic Leadership. All of his books have been translated into Japanese, Spanish and some in five other languages. Putting It All Together continues to be used in MBA programs and has sold in excess of 150,000 copies worldwide. Rothschild's latest release is The Secret to GE's Success. In the book, Rothschild, who witnessed GE's revolution firsthand, explains the five keys that made GE a global phenomenon—and gives managers a complete toolkit for duplicating its remarkable success. He explains the GE Code—the hallmark of all GE leadership teams—and provides a far-ranging prescriptive plan for strategizing the GE way.

Rothschild's articles have appeared in Harvard Business Review, Journal of Marketing, Journal of Business Strategy, McKinsey Journal, New York Times, Chief Executive Magazine and many others. He wrote a monthly column for Weekly Diamond, a Japanese business magazine for over two years.

He co-led, with the Business School Dean, the Columbia Business School Arden House's two-week Strategic Planning workshop, for three years. Rothschild has lectured in China's Dalian Institute of Technology, Harvard, Tuck, Wharton, New York University and many others. He was an adjunct professor at Pace University and is currently an adjunct professor at University of Bridgeport.

Rothschild and his wife, Alma, live in Norwalk, Connecticut. He has three sons and one daughter, and eleven grandchildren. He is a graduate of Fordham University, with a degree in Russian language and area studies and is very active in its alumni association.