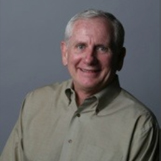 Bill Shannon
Director, Human Resource Development, Auburn University Director, Fan & Staff Experience, Auburn University Athletics
X
Program Descriptions
A Great Company, Made Simply ©
Creating a Culture of Service Excellence
Lessons from a "D-Student" (Disney, Duke and DaVita)
Tactics (or Tools) to Create a Special Organization
Leading A Great Organization on Just One Power Point Slide
Service Improvement in Healthcare from One Whose Lived It
Leading a Great Organization
Creating a Great Organization in Plain English
Bill has presented in 47 states, in Africa, Australia, Central and Latin America, and Europe. Raised in tough southeast Los Angeles, husband of 37 years, father of two, Bill "Coach" Shannon's accomplishment-filled journey has been about developing others and simplifying the complex.

He helped open a distinguished high school as teacher and head coach and in five years won the California State Basketball Championship.

Recruited to Disney, he was a founding manager of the Disney Institute, where companies and individuals learn "The Business behind the Magic." At Disney he worked with the likes of Exxon Mobil, Coca Cola, The Cleveland Clinic, JCAHO, Delta Airlines, Siemens, and on several Walt Disney Imagineering projects including Celebration Health, Disney's Wide World of Sports and Disney University.

Among his Disney clients were two powerhouse healthcare brands: Duke University Health System and DaVita, a Fortune 500 healthcare services company. Both organizations recruited him to leadership positions.

At Duke he's been Executive Director for Service Improvement for the entire Duke University Health System. He started the first Best Practices sharing system and patient satisfaction efforts throughout the Health System, was in charge of seven departments at Duke Hospital, and served on employee, faculty, nursing work culture diversity initiatives. He also served as Director, Engagement, Learning & Diversity at the renowned Duke Clinical Research Institute. In 2011, he was honored as a Visiting Scholar at Duke Fuqua School of Business and recipient of Duke Hospital's Diversity Leadership Award.

As Chief Wisdom Officer at DaVita, he was responsible for The DaVita University and all its training, Academies, internal communications company-wide, special events, film production, and all major company meetings. He was part of Marketing, PR, Diversity, Sales, facility design and décor executive teams. He is one of two DaVita Vice Presidents to receive two Core Value Awards—for Fulfillment and Fun.

Bill moved to Auburn University full time after having served as adjunct lecturer for several years while at Duke.

His nonprofit work includes serving as Chairman of the Board of Directors for the American Council on Exercise, and strategic planning for several organizations.