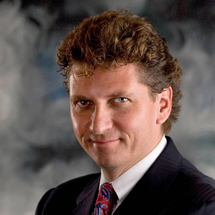 Bill Sims
The Remarkable Power of Positive Reinforcement
Traveling From
South Carolina
X
Program Descriptions
"Green Beans & Ice Cream: The Recipe for a Culture of Commitment"
It's a business no-brainer that happy employees make better employees. But how do you get happy employees that deliver their best work on a consistent basis to create a culture of commitment in your organization?

How precisely do you shift your workplace culture from "I have to do it or I'll be in trouble" to "I want to do it because I believe in it"? And how do you get more positive reinforcement in your management system?

Based on the best-selling book: GREEN BEANS & ICE CREAM; this presentation explores how Voluntary Extra Effort on behalf of Leaders stimulates the power of positive reinforcement and how this role-modelling should be the basis for your company culture. Positive behavior modelling will attract and retain high-performance employees and will achieve long-term performance improvement among low-performance employees. We will focus extensively on the mechanisms needed for successful behavior-based recognition programs and consider areas that are often overlooked.

During this 1 hour presentation, C-Suite level Leaders will be introduced to how to model positive behavior and HR Leaders will be provided tools to help learn to design and implement successful behavior-based talent retention and recognition programs so that a corporate culture that focuses on achieving long-term performance improvements, eliminating favoritism, and engaging the middle manager thus resulting in higher profits for the shareholders. Participants will learn the benefits of proactive programs and will explore the most "popular" recognition tools in use today and what the latest studies indicate about their effectiveness. Acclaimed presenter Bill Sims will teach you how to use positive reinforcement to cultivate engaged, committed employees simply by changing their behavior.

Green Beans & Ice Cream: Why Zero Injuries is not your goal: For years, safety leaders have been challenged with hitting the goal of zero injuries. Millions of dollars have been spent by leading firms in search of Zero, the "Holy Grail" of safety. Many of these efforts have proved beneficial, and yet many others must be questioned. Some of the finest safety cultures meet the goal of Zero Injuries, only to find that a tragic event shatters Zero, leaving it a hollow memory of what was, but no longer is. Why does this happen?

Is Zero really the right goal or is there a better one that will drive continuous safety improvement? Learn what lies Beyond Zero, and how this is the goal your culture must strive for to not only survive, but thrive in today's competitive landscape.


Learn about the OSHA position on employee incentive programs
Learn how to comply with OSHA rules and still have an effective reward program
Learn the difference between lagging and leading indicator systems
Learn what builds up and what tears down a workplace safety culture

"Caveman Safety: When Cardinal Rules Programs Backfire"
Many firms believe that "cardinal rules" programs (golden rules etc.) are the key to reducing Workplace injuries. And, the injury reduction numbers are certainly impressive. Publishing a few simple rules seems to be "so easy, a caveman could do it". But a careful look behind the scenes reveals that these programs may Do more harm than good. Learn the good, bad, and the ugly behind these programs from global author/speaker Bill Sims.

"OSHA made Lagging Incentives illegal—what's next?"
OSHA's Safety & Health Program management updated guidelines faced heavy opposition and lawsuits—but became law anyway. While many firms have moved away from these systems, A few are ignoring the ruling and hoping OSHA won't catch them red handed. Learn how to transition from lagging systems To systems that are leading indicator and meet and exceed OSHA guidelines, while reducing injuries without injury hiding.

"Green Beans & Ice Cream: The Power of Positive Reinforcement"
What is Positive Reinforcement? What types of employees do you have: Are they compliant, non-compliant or committed? What type of reinforcement drives commitment and employee engagement for greater safety and profitability? Do you rely on "magic" or a strategic plan for motivating and rewarding your employees? Let Bill Sims show you the astonishing power of positive reinforcement leading to improved safety, injury reduction, increased production, customer satisfaction and employee morale.
Bill Sims, Jr., is President of The Bill Sims Company, Inc. For more than 40 years, the Bill Sims Company has created behavior based recognition programs that have helped large and small firms to inspire better performance from employees and increase bottom line profits.

Bill's book entitled Green Beans & Ice Cream-The Definitive Recipe for Employee Engagement, Motivation and Recognition is based on this seminar and his experience having built more than 1,000 recognition programs since. More than 1,000 firms have benefited from consulting with Bill, including Dupont, Siemens VDO, Coca-Cola, and Ford, to name a few.

Bill Sims has spoken at the ASSE's annual PDCs in San Antonio, Baltimore and recently in Chicago to international HSE professionals and corporate management. He has been a keynote speaker at vast number of conferences globally; for example; the IOSH/NIOSH in Scotland, the Saudi Council of Engineers and at many more locations in the Middle East, Europe, Australia, South Africa and more.

Bill consistently gets high ratings of nearly 95% from attendees. Bill was a keynote speaker at the Annual N.C. Workman's Comp Education Conference and at the National Safety Council Congress & Expo. He has already been booked by the ASSE Middle East and Kuwait chapters to address large number of international conference delegates – about 1000 in Bharain and over 500 in Kuwait representing technical and corporate management executives from the major Middle Eastern oil, gas, petrochemicals companies and also from their multibillion dollar associated expansion construction project corporations.

For forty years, the Bills Sims Company has designed and implemented behavior-based systems and approaches that bring continual improvement in any targeted performance, perhaps most notably, safety. The process described doesn't circumvent ongoing improvement efforts, but makes such efforts much more likely to bring outstanding results.

One of the reasons Bill's presentations are consistently well received is that he delivers the message in understandable language, and illustrate his points with industry relevant examples and anecdotes, so that people can quickly understand these methods and find ways to immediately apply them in the real world. This might be why 97.2 percent of the participants of the National Safety Council Conference& Expo in Anaheim, CA, and also throughout Saudi Arabian oil, gas and petrochemical corporations evaluated his sessions as "providing new information and skills" and 91.3 percent stated that the information he share is "valuable for practical application."
Books

Green Beans & Ice Cream