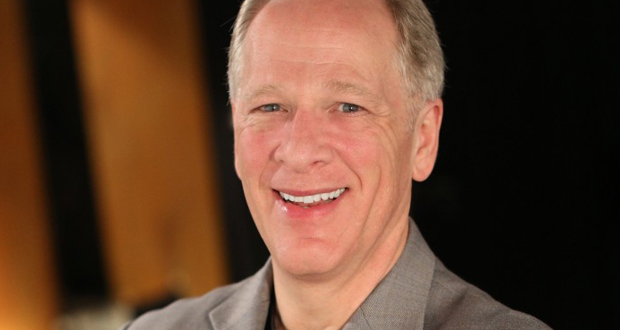 Bill Stainton
29-Time Emmy Winner & Business Speaker
Traveling From
Washington
X
Program Descriptions
Crunch Time!
The Leader's Guide to Producing Under Pressure

How To Be Your Best — When It Matters Most!

Why do some people choke in high-pressure situations, while others excel? And, more importantly, how can you become the one who excels?

For 15 years, multiple Emmy Award winning Executive Producer and keynote speaker Bill Stainton produced under pressure — literally. As the Executive Producer of Seattle's legendary comedy TV show Almost Live!, Bill and his team had to produce exceptional results — on demand — week after week after week. No excuses. Each week, when the clock hit 11:30pm, they had to go on the air in front of a million people with a new show. Not a second early. Not a second late. And their jobs depended on the outcome.

As leaders, your attendees face high-pressure situations as well. How can you help them rise to the top when it matters most?

Let them learn from the best. Let them learn from someone who's been there. Let them learn from Bill Stainton.

Key Takeaways:
Discover that the difference between choking and thriving under pressure comes down to one basic mindset shift.
Learn 3 key things to do before, and 3 things to do during a pressure situation to produce peak results.
Understand the role that competence and confidence play in high-pressure situations. Examine the myth that some people "rise to the occasion" and do their best work under pressure.
Walk out with actionable strategies to be your best when it matters most.

It's Showtime!
Leading High-Performance Teams in a High-Pressure World

Unforgettable Presentation. Unforgettable Message.

Life is not a dress rehearsal; neither is business. How would your organization be different if everyone stopped making excuses and started producing better results in every area of their lives? Not "later," not "some day," but now! Because when it's showtime, all that matters is results. And in your business, as well as in your life, every day is showtime.

29-time Emmy Award-winning TV Executive Producer Bill Stainton has discovered that whether you're producing an award-winning television show, an award-winning team, or an award-winning life, real results come down to three simple questions: What's the show? Who's the cast? Where's the script?

Key Takeaways:
You can't produce a great show if you don't know what the show is. What's the show you're trying to produce? What's the outcome you want to achieve? Step one to producing a breakthrough result is to define the result you're trying to produce.
If you leave your cast to chance, you leave your results to chance. Who are the people you need to have on your team in order to produce your result?
The quality of your script determines the quality of your show.
Behind every great achievement is a great plan—a script, if you will. And just as a TV script is broken down into acts and scenes, your plan needs to be broken down into milestones and benchmarks.

The 5 Best Decisions the Beatles Ever Made!
How to Become the Gold Standard in Your World

The Buzz of the Beatles — at Your Event!

What does a seriously award-winning team look like? What does it take to lead them? And, ultimately, what does it take for your team to really make it to the top? Why not find out—and have some fun along the way!—from one of the most successful teams ever?

The Beatles are the Gold Standard for success in their industry. How can you become the Gold Standard in your industry?

In this entertaining, energizing, and enlightening keynote, Bill combines music, video, and hilarious audience interaction to help you take your own team to the "top of the charts!"

Key Takeaways:
Spread the Spotlight. Build a great team and share the credit.
A Single, Shared Vision. Is everyone in your team on the same page?
Play to Your Strengths. What can you do better than anyone else?
Shake It Up! Innovate, reinvent, and do things differently.
Carry That Weight. Roll up your sleeves and do what it takes.

Connect the Dots
Creative Thinking for the Progressive Leader

The Critical Skill For Today's Leader!

Change happens quickly in the 21st century, and the leader who can think creatively — on demand! — will have the edge over the competition. Okay, that's great. But aren't some people (and some leaders) naturally creative, while others are naturally…well…dull?

Not at all.

For 15 years, multiple Emmy Award winning Executive Producer and keynote speaker Bill Stainton had to be creative — on demand — each and every week. Whether he felt like it or not. And he found that creative solutions are not a matter of "waiting for the lightning bolt." There are tools and techniques that can trigger anyone's natural creative smarts.

The future is unknown, and it's hard to prepare for the unknown. Your best defense is a good offense — and that offense is the ability to think creatively. To react creatively — on demand. To be proactive creatively — on demand. To come up with the ideas, solutions, and innovations that the competition will never see coming.

Bill Stainton has done it. Every week. For 15 years. And he can teach you how to do it as well.

Key Takeaways:
Debunk — for good — the myth that some people (and some industries) just aren't creative.
Discover why creative thinking is the single most important leadership skill for today's environment.
Learn how creative thinking isn't about the "lightning bolt," but more about connecting dots.
Uncover how a Trappist monk helped to create a revolutionary, multi-billion dollar company.
Gain hands-on tools for elevating your creative thinking skills.
Why Book Bill Stainton?

Imagine:
A Leadership speaker who has actually led a team (to world-class results).
A Strategic Creativity speaker who has won 29 Emmy Awards for creative entertainment.
A dynamic Keynote Speaker with compelling, behind-the-scenes stories from high-achievers like
Jerry Seinfeld, Ellen DeGeneres, and Bill Nye the Science Guy.

Now, imagine your participants:
Laughing hysterically because they're watching an Emmy winning entertainer.
Taking copious notes because they're listening to ideas they can implement immediately.
Saying to you afterwards, "Where did you get this guy? He was amazing!"

That's Bill Stainton.
Bill Stainton is a 29-time Emmy Award winning Executive Producer and respected leader in the Seattle business community. He is a regular contributor to Seattle Business magazine, and his expertise has been cited by Forbes and The Wall Street Journal. Bill has also authored nine business training video programs in subjects ranging from Office Politics to Customer Service to Team Motivation. His programs have been used by many organizations, from IBM and Boeing to Paramount Pictures and the CIA. (And yes, the fact that the CIA is actually using Bill's training materials is a cause for worry!)

Not bad for a kid who grew up behind a dairy farm in the Amish countryside of Lancaster, Pennsylvania.

For fifteen years, Bill was the Executive Producer of Seattle's legendary comedy TV show, Almost Live! (which also enjoyed a two and a half year run in national syndication on Comedy Central). Along the way, he led his team to more than 100 Emmy Awards as he became a sought after Innovation Driver, working with companies such as Nike, Microsoft's Small Business Summit, Godiva and Harley-Davidson. Bill's leadership gave birth to such personal success stories as Joel McHale, star of NBC's Community and E's The Soup; Academy Award nominee Bob Nelson; and Bill Nye the Science Guy.

Bill led his team to more than 100 Emmy Awards and 10 straight years of #1 ratings. Today he helps leaders achieve those kinds of results–in their world and with their teams. He blends the business smarts he learned from twenty years in corporate management with the show biz sparks he gleaned from working alongside Jerry Seinfeld, Ellen DeGeneres, and Jay Leno. This combination of experience creates riveting presentations enjoyed by audiences around the world. Focusing primarily on the areas of leadership, teamwork, and innovation, Bill calls upon his background as a comedy writer to customize each keynote to each individual client. (He's also written for HBO, NPR, and The Tonight Show with Jay Leno…And, unlike some "leadership" speakers, Bill has actually led a successful team!)

When Bill's not working with, or speaking for, clients around the world, he enjoys scuba diving, flying airplanes, and irritating blues club bands by continually asking to sit in on drums or keyboards. Occasionally they say yes.

Bill is the author of The 5 Best Decisions the Beatles Ever Made: A Handbook for "Top of the Charts" Success, The Executive Producer, and Lead Like the Beatles: How Four Young Men Reinvented And Dominated An Industry…and How You Can Too! As the opening, closing, or luncheon speaker for your next event, Bill sees his responsibility to your audience as four-fold:
Give them something to think about
Give them something to laugh about
Give them tools with which to take action
Give them a reason to say, "This is the best meeting ever!"