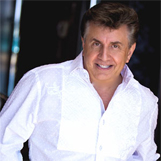 Billy Garan
Great Comedic Storyteller
Billy Garan began his career performing stand-up comedy at Catch A Rising Star in New York City. Shortly thereafter, he joined a comedy troupe called Funny Business which toured hundreds of colleges throughout the country. Billy's staggering list of impressions is demonstrated in his "Hollywood High" routine where he plays all the characters in a classroom of celebrity students, ranging from Truman Capote to Sylvester Stallone. He not only does the voices with superb accuracy, but also the mannerisms. Billy's high energy and unique talent have made him a valuable act opening for Robert Klein, Jay Leno, and Jerry Seinfeld. He has produced, written and performed numerous radio commercials and has appeared on Showtime's "Comedy Club Network", "Caroline's Comedy Hour", and "Into The Night starring Rick Dees". Billy showcased at the New England Coffeehouse Conference and at the New England Regional Conference for the National Association for Campus Activities. His acting career has taken off with appearances on ABC's "Phenom", & "America's Funniest People", NBC's "Saved By The Bell", & "California Dreams", Showtime's "Sherman Oaks", and a 1994 ABC Pilot called "Worlds Apart".

From The LiE (Long Island Entertainment) February 1998
Back in the "gravy days" of stand-up comedy, when there were a dozen clubs scattered about the island and eastern Queens, you could see guys like Billy Garan just about every month. Garan, like many of his cronies, has migrated west to California, taking his aim on television and the natural next level all comics seek. Garan's return did prove one thing that's always been thought to be a cliché...you can take the boy out of New York but you can't take the New York out of the boy is, in fact, a truism.

Long recognized as comedy's great storytellers, Garan presents a set that is equal parts of what he is...insightful observationalist, veteran of the two-fisted style of cruise ship stand-ups and personality extraordinaire. ;INSERTing chunks of his one-man theater show (which he's been sharpening on Hollywood stages), Garan delivered an uneven show that still managed to delight an enthusiastic crowd. Reeling the audience in with his hyperactive stage persona, machine-gun fire New York-speak and proclamation that he was glad to be home, Garan used well-honed instincts to bring the crowd back when stories of his east coast days left them wandering a bit. In a theater setting, this material is unquestionably magnetic, but in a club where Garan set the tone with set-ups and punch lines, there was really no clean way to get out of them on a laugh. More importantly, the crowd was laughing throughout, just confused when his observations didn't climax, however...Garan did leave the crowd feeling "close to him" with his intimate examinations of his life. A true performer, Garan also did some terrific impressions, ranging from Kirk Douglas to Burt Lancaster, a visual bit surrounding the Wizard Of Oz and more than enough "joke-jokes" to keep the audience busy at their water coolers for a month. Energetic and enthusiastic, Billy Garan may insist that he hates the California "headset" but it's clear that the New Yorker in Garan will never lose his edge.