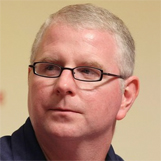 Bob Bowman
Olympic Swimming Coach to Michael Phelps
X
Program Descriptions
Dream, Plan, Reach
Bob focuses on these key elements as the secret to success and how this basic process is the starting point of any kind of success and goal-making. This is the same process he used in orchestrating the success of the world's most decorated Olympian Michael Phelps. He communicates that everything needs to start with a desire and ability to "dream big" and envision your success, no matter what that might be. Something "small" might be another person's "big" dream.
*By arrangement with Octagon Speakers Group 
Coaching the best American swimmer to Olympic greatness might not be easy, but it has been worth it. Bob Bowman achieved great success at the international level as assistant coach of the 2004 U.S. Olympic team and served as Michael Phelps' main coach in 2004 and 2008. Under the passionate coaching of Bowman, Phelps won an Olympic-record eight medals in 2004 and eight gold medals in 2008. He was the head coach of the US Swim team at the recent World Championships in Rome, where his athletes won a championship high 22 medals, ten of which were gold, and broke ten World Records.

His career highlights include being awarded the USA Swimming Developmental Coach of the Year and the ASCA Coach of the Year Award, being named 2006 USA Swimming Coach of the Year; led the 2004-2005 University of Michigan swim team to a sixth-place finish at the NCAA Championships; served as an assistant coach on the U.S. staff at the World Championships in Montreal; and coached Michigan's club team, Club Wolverine, to the 2005 U.S. summer nationals team title. He recently stepped down as the head coach of the University of Michigan's men's swimming team, to take over coaching the North Baltimore Aquatic Club. Bowman also served for nine years at the North Baltimore Aquatic Club (NBAC) in Baltimore, MD and as the High Performance coach at NBAC from 1999-2004 working directly with the senior elite performance group including Phelps. Under his tutelage at NBAC, Phelps won five World Championship Gold Medals and was named the American Swimmer of the Year in 2001 and 2003. Bob was also named USA Swimming and the American Swimming Coaches Association Coach of the Year Award Winner in 2001 & 2003, USA Swimming Developmental Coach of the Year in 2002, and Senior coach at the NBAC from 1996-99. During his tenure in Baltimore, Bowman helped to produce three individual National Champions, 10 National Finalists and five U.S. National Team Members.

Bob coaches Michael Phelps, Katie Hoff, Peter Vanderkaay, Chris DeJong, Davis Tarwater, Chris Thompson and Klete Keller among others. He is involved in many swimming clinics and camps, including Swim With The Stars, Eastern States Swim Clinics, Central States Swim Clinics and Western States Swim Clinics and has also produced an instructional DVD with Phelps entitled Personal Best- Butterfly.

In addition to his coaching duties, Bob also runs Bowman Thoroughbreds LLC, a thoroughbred racehorse racing, breeding and sales company.