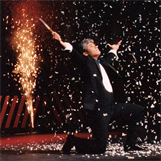 Bob Higa
Magician and Motivator
X
Program Descriptions
After-Dinner Entertainment
Bob Higa presents an outstanding after-dinner program that makes for an unusual and unforgettable audience experience. Opening with dazzling magic accompanied by dynamic music, this is magic in its purest form. Bob Higa makes objects appear, disappear, and transform right before your eyes in this exciting and dramatic performance. The next segment focuses on your message, featuring laughter and audience participation. Higa uses his business knowledge and presentation wizardry to weave in the client's own messages regarding "change, teamwork, partnership & challenges." Higa's finale is a replication of Houdini's famous escape "Metamorphosis."

Celebrate the Magic! Keynote
Bob Higa's keynote presentation has received rave reviews from clients and standing ovations from his audience. Here Higa stresses that magic is in each of us and we have the power to deliver amazing results. "Celebrate the Magic" questions our standard approach to every day issues and encourages "looking at the same things, yet seeing them differently." Bob Higa suggests that the real magical experience is not about tricks and illusions but how we make customers and employees feel.

Amazing Customer Service
This fun and interactive program provides your team with tools to start thinking about their work differently. Customized to your business or industry, these exercises draw direct parallels to your team's every day challenges. Higa suggests that the way people think affect the way they feel. That, in turn, affects the way they perform. Discover the secrets to WOW your customers and discover that each of us can be amazing.

The Big Show
When you've got a big audience, you need a BIG SHOW! And Bob Higa has got a solution! Large illusions, the appearance of a Tiger, and stage pyrotechnics are in Higa's bag of tricks. Customized to your audience, your occasion and your budget, Higa's big show is memorable and spectacular!
Why Book Bob Higa?


He is more than an entertainer; Bob Higa is an illusionist who motivates crowds in sales, management, marketing and customer service.
Bob Higa is a master magician who also has experience in sales, management, marketing and customer service. An accomplished entertainer, Bob Higa has appeared on television, and headlined in Las Vegas in the Tropicana's "Folies Bergere" and in Atlantic City at Bally's Park Place. He has headlined on major cruise ships and has opened for several popular celebrities.
For the past 20 years, Higa has presented to the country's top corporations and associations delivering the message that customers expect to be WOW'd and there is "no magic to magic!" Yet, each associate can be amazing. Higa shares the secrets to creating business WOW. Combining a strong message with exciting magic leaves more than an exhilarating feeling, it leaves a lasting impression.
Combining a strong, motivating message with baffling and compelling illusions, the result is an exhilarating and inspiring program. Higa's message is clear-magic does not consist of tricks or illusions, but the "Wow" feeling we can reach with the people and events in our lives. Tailored specifically to your organization, "Celebrate the Magic" demonstrates that every person has the ability to create that "Wow!"
It's a chance to celebrate your organization's magic with your audience - a fascinating "behind the scenes" look from a renowned master of magic: Bob Higa.