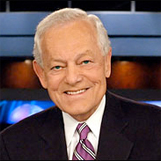 Bob Schieffer
CBS' Chief Washington Correspondent
Traveling From
District of Columbia
Bob Schieffer began a new chapter in his long career when most people are retiring. He had planned to retire in 2008 at age 71. Instead, he published his fourth book, Bob Schieffer's America, moderated the final debate of the 2008 campaign, received an Emmy for lifetime achievement, was named a "Living Legend" by the Library of Congress, and along with his country music band Honky Tonk Confidential, made his debut at the Grand Ole Opry.

2012 marks Schieffer's 55th year as a reporter and his 43rd year at CBS News. He is one of the few broadcast or print journalists to have covered all four major beats in the nation's capital – the White House, the Pentagon, the State Department, and Capitol Hill. He has been a principal anchor for CBS News since 1973.

Schieffer anchored the CBS Evening News from March 2005 to August 2006, an 18-month period that saw a substantial increase in viewers. Schieffer has served as the moderator of Face the Nation, CBS News' Sunday public affairs broadcast, since 1991. He is also CBS News' chief Washington correspondent, a post he has held since 1982.

Before joining CBS News, he was a reporter at the Fort Worth Star-Telegram and, in 1965, became the first reporter from a Texas newspaper to report from Vietnam. Schieffer later became news anchor at WBAP-TV Dallas/Fort Worth, a post that eventually led to his joining CBS News.

Schieffer has received virtually every award in broadcast journalism, but feels the greatest honor was bestowed upon him in 2005 when his alma mater, Texas Christian University, created the Schieffer School of Journalism.

He has no plans to retire anytime soon. He provided full coverage of the 2012 presidential conventions and moderated the 3rd presidential debate between President Obama and Governor Romney in October of 2012.