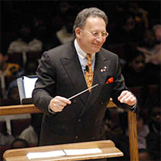 Boris Brott
Orchestra Conductor, Motivational Speaker, Cultural Ambassador
X
Program Descriptions
PLAYING TOGETHER WITH BORIS BROTT

Boris Brott's presentations are customized:
Each presentation draws comparisons between business organizations and symphony orchestras — both have common goals.
Both orchestras and business organizations strive to achieve the same goals, and both aim for perfection.
Both seek innovation and creativity.
Boris draws a juxtaposition of teamwork and leadership; the need for creativity within an organization; the joy of communication and the achievement of success. All are explored through the medium of music. During his presentation, these analogies are enhanced with graphics, hi-res video and audio tracks. The audience hears of Beethoven's struggles, his quest for perfection … hears brief passages from some of Beethoven's best known works.

Then, to conclude his presentation, it's time to play together…


Boris instructs the audience to reach under their chairs where they will find a tone bar — a xylophone-like musical instrument with a mallet.
The audience has been divided into five sections, each section a note.
After "rehearsing" and enjoying the levity and excitement, the audience is prepared to play Beethoven's "Ode to Joy" under Boris's direction.
He turns to the video screen, gives a signal, and a full symphony orchestra begins to play the well-known composition.
At the appropriate point, he turns to the audience and "conducts" them in this informative, educational, and fun-filled presentation.

Audiences are thrilled to be playing a significant part in an historic piece of musical history, and to make music under the direction of a symphony conductor. Audiences and corporate executives find it a memorable and unique presentation.

VARIATIONS OF PLAYING TOGETHER


A live orchestra joins Boris on stage. Musicians and their instruments are introduced until an 11-piece orchestra is formed.
The meeting's host joins Boris in conducting the audience and/or explaining the similarities between their organization and a symphony orchestra.
The presentation's length is suited to the client's program requirements.
Boris can act as host throughout the meeting.
Why Book Boris Brott?
Borris is a conducting and music director mastermind, leading some of the world's most formidable orchestras
He is also a professional speaker, delivering inspiring talks to Fortune 500 companies and international conventions.
Some of his titles include being a Knight of Malta, Fellow of the Royal Society of Arts, and an Officer of the Order of Ontario
Boris Brott is an internationally recognized Canadian conductor. He holds major posts as music director in Canada.

He also enjoys an international career as guest conductor, educator, cultural ambassador and motivational speaker. His other positions include:
Conductor and Music Director of the McGill Chamber Orchestra in Montreal, Canada.
The National Academy Orchestra of Canada.
Principal Youth and Family Conductor of the National Arts Center of Canada.
Artistic Director of the Brott Musical Festivals, Ontario's principal classical orchestra music festival.

Internationally…

Boris has served as Assistant Conductor to the New York Philharmonic under the late Leonard Bernstein. Other positions include:


Music Director and Conductor for the Royal Ballet, Covent Garden.
Chief Conductor of the BBC National Symphony of Wales.
Music Director of the Northern Sinfonia of England.

His extensive guest-conducting appearances have been around the world. In 2000, he conducted Leonard Bernstein's "The Mass" for Pope John Paul II at the Vatican.

In 1988, Boris was awarded the Officer of the Order of Canada, Canada's highest civic honor. That same year, he was awarded an Honorary Doctorate of Law at McMaster University. Two years later, he was made a Knight of Malta.

In 1992, he was selected International Man of the Year by the International Biographical Center in Cambridge, England.

In 1996, he was elected a Fellow of the Royal Society of Arts of Great Britain. In 2006, he was appointed to the Order of Ontario.

In addition to his conducting career, Boris is a motivational speaker, presenting more than 35 talks annually around the world for Fortune 500 companies.

Besides numerous film and radio commitments, Boris has conducted, produced and hosted over 100 television programs on both sides of the Atlantic. He has recorded for CBC, Septre-Mace, Mercury, Pro-Arte Records and Sony Classical where CDs with the late Glenn Gould have been released.

Boris lives in Hamilton, Ontario, with his wife, Ardyth, an author and lawyer. The Brotts have three children and two dogs.