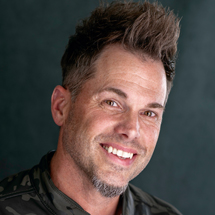 Brant Menswar
Change What's Possible
X
Program Descriptions
KICKSTART MY HEART
CONFERENCE/MEETING OPEN
When its crucial to set the tone for your event, I take the stage for the morning keynote and turn it up to 11! This high-energy, inspiring and interactive talk is filled with live music, powerful visuals, moving stories and rock solid takeaways. Discover why we can't find our purpose, how our core values make us stronger, more effective, impactful leaders and how to know when you make a "good" decision.

CLOSING TIME
CONFERENCE/MEETING CLOSE
When you want to send people off motivated and inspired and amplify the impact of your event, this is the perfect keynote for you. This passionate talk focuses on the awareness needed to hit your goals and the discipline and commitment required to make it happen. Filled with live music, humor, engaging interaction and real life rock star examples, audiences walk out believing they can turn purpose into productivity.

CUSTOMIZED WORKSHOP
MASTERCLASS WORKSHOP
When you desire the impact of your event to last long after it ends, this hands-on workshop helps leaders discover their core values, determine their motivation and direct their feelings in service of their goals. The result is alignment of organizational core values and employee feelings which allows for more dynamic and impactful leadership.

BREAKOUT
KEYNOTE - ADD ON
When you want to enhance the keynote experience, you can add an interactive breakout where attendees get their hands dirty with Rock 'N' Roll flavored exercises designed to engage and educate.

ENTERTAINMENT
KEYNOTE - ADD ON
When you want the total immersion experience, why not have the resident rock star be your entertainment for the event? Treat your audience to an intimate "Story Tellers" session over dinner or choose to amp it up and rock it out into the evening.

EMCEE
KEYNOTE - ADD ON
When you want to carry the Rock 'N' Roll vibe throughout the event, I will serve as the emcee for added continuity. Doing a deep dive with your planning team allows for seamless integration and powerful reinforcement of your event goals.
Brant Menswar is a critically-acclaimed author, award-winning musician and the CEO and founder of Rock Star Impact, a boutique agency that teaches people and organizations how to cultivate values-based leadership and activate organizational values to help connect the head and heart. His unique and compelling approach of using music to build bridges across generational, gender and competency based gaps has changed what's possible for industry-leading organizations like Netflix, Verizon, St. Jude Children's Research Hospital, Microsoft, Hilton and dozens more.

His voice has been described as gritty and magnificent by industry titans like Billboard and Sirius/XM and he was recently named one of the Top 10 Motivational Speakers in the country alongside legends like Magic Johnson, Jack Nicklaus and Amy Cuddy. Please join me in welcoming Brant Menswar to our stage!
Books

Rock 'N' Roll With It