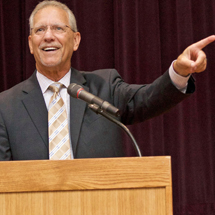 Bruce Boguski
Author, Motivational Speaker, Columnist & Media Personality
X
Program Descriptions
IGNITE—GET FIRED UP
"The key to any problem is often the ignition key." Unleash a powerful force and FIRE UP your business, team, organization or community by utilizing Bruce Boguski's new program IGNITE—Get Fired Up! Most businesses and teams are already equipped with amazing talent, brain power and the drive to succeed, but they are simply lacking the spark needed to set them on fire and achieve breakthrough results. Bruce's program provides the combustion needed to launch your organization to unchartered levels of success.

IGNITE FOR ATHELTES
Your team has worked hard. They have practiced daily, ran suicides, lifted weights, learned the schemes and done everything physically possible to be the best they can be. NOW is the time to equip your team with the mental techniques used by professional athletes that allow them to be a dominant force on the court.

THE FLIGHT OF THE GOOSE (Empowering through Teamwork)
When groups of professionals who care about each other and share a common belief get together, unbelievable goals can be achieved. Nowhere in nature is this better illustrated than within the remarkable spring and winter flights of the goose.

This seminar uncovers how every instinctive action of each individual goose has significance for the entire flock. More importantly, the presentation will reveal how to use these principles for enhancing human performance.

BRAIN BASED LEARNING STRATEGIES
Wouldn't it be fantastic to create an environment that is compatible with the way in which the brain is designed to learn? The latest brain research can be implemented to do just that! Brain based learning is the first ever comprehensive and biologically-driven framework for learning. It is a system-wide approach based on the way current research in neuroscience suggests that our brain naturally learns best. Specific techniques for providing a peak learning environment in the home and classroom will be discussed.

THE TESTING ZONE Standardized Test Taking Strategies
Students learn how to become super test-takers in this fast paced, educational assembly. The biggest obstacles to peak performance while taking tests are anxiety and nervousness. By implementing the D.R.I.V.E.R. system described in his book, The Testing Zone, Bruce will explain and illustrate practical techniques to reduce test anxiety and to relax under the pressures associated with any testing situation.

FINDING THE ZONE Peak Performance Under Pressure
Whether an athlete, business professional, student or teacher, being able to perform at a peak level is directly related to how well you control your emotions. "The Zone" is that mysterious place where everything is going your way, you are on a roll and can't be stopped. YOU are in complete control, relaxed and powerful! Well, The Zone is no longer a mystery. This presentation debunks the myths and teaches specific techniques designed to help the attendees control their emotions, relax under pressure and "find The Zone" to enter their peak performance state whenever they desire.

FOLLOW YOUR DREAMS
A dynamic and insightful look at the quest for achieving our dreams. Seven crucial qualities for the pursuit of any goal are discussed with a high level of audience participation involved, helping to draw each attendee into the presentation.

LEARNED HELPLESSNESS Symptoms, Causes and Cures
Learned Helplessness is a behavioral phenomenon becoming more common in classrooms across the country. It is not an invented disorder, but a chronic and serious condition. It is estimated that 30% of our student population is susceptible and LH will usually affect the most social, outgoing and aggressive student personalities.

Do these symptoms sound familiar? Do you know students or young adults that give up easily? Won't try new things? Blame others for their failure? Develop a negative attitude and negative expectation? Resort to sarcasm and become apathetic?

We used to label these students "lazy", but research indicates that certain traumatic events can cause the brain to stop producing important neurotransmitters, specifically Norepenephrine, Dopamine, Serotonin and Adrenaline; resulting in less fuel for the brain.

Research has uncovered some basic causes for LH. Number one is having weak role models. Yes, the people we hang with do have an important influence on our motivation and success. Number two is a traumatic event like a relationship coming to an end, losing an important athletic contest, flunking a test or death in the family. Number three is that caregivers (parents, teachers, coaches) do too much for the students and soon they expect to be rescued from their mistakes instead of working through them on their own. Number four and most important is a distorted self-image. This self-image is usually characterized by a negative, global, and permanent explanatory style.

SUCCESSFUL LIVING IN A GUERRILLA WORLD
The current state of our economy, the aftermath of 9/11, snipers attacking our cities, child abductions, unrest in the Middle East and countless other factors have made it impossible for Americans, children or adults, to live without tremendous pressure and stress. Many citizens are buckling under the strain. Several are suffering from depression, sleepless nights, anxiety and nervousness along with other specific physical ailments associated with the added daily pressure. In this powerful seminar, you will learn how to regain control of your career and personal life. The days of reducing stress in our lives are over! NOW is the time to learn how to become mentally tough in order to successfully conquer the serious challenges facing us in the twenty first century. Join us in this fast-paced, energizing, fact filled seminar and take control of your destiny now!

This is not one of those wimpy, feel-good seminars that simply instruct you to reduce the stress in your life. That is not going to happen! Our seminar will equip you for the war on stress and teach you how to handle pressure situations with confidence and an unshakeable inner spirit.

TURNING SLUMPS INTO STREAKS
There's a word that can strike fear into the heart of the mightiest athlete, cause panic in even the most determined performer, and baffle the most knowledgeable coaches, causing them to shake their heads in disbelief. The word is "SLUMP".

KEEPING YOUR BRAIN ALIVE
Based on the revolutionary new research and book by Lawrence C. Katz, Ph.D. and Manning Rubin, this seminar exposes the myths concerning senility and manor loss by explaining how the brain prefers to learn and remember. More importantly, dramatic neurobic exercises will be explained and demonstrated. When exercised will allow the participants (and their brains) to do the following.

Produce more brain nutrients for longevity.

Acquire instant creativity.
Access more areas of memory and recall.
Establish more neural pathways and get more of the brain involved in our everyday activities.
Jump-start underused senses for peak performance.
Change everyday activities into powerful brain exercises.
New research indicates that we can actually "grow" brain cells and manufacture synapses to compensate for the effects of aging.

Have you forgotten someone's name recently? Do you keep misplacing items around the house? Have you been losing your car keys? Have you forgotten an important lunch date with a friend? If so, discover why these things happen and how to build a neural defense system for keeping your brain flexible and productive. Book this seminar today!

THE GOLF ZONE
Give yourself or team a tremendous advantage by learning the mental skills required to play consistent golf. Casual and professional golfers will admit that golf is almost 100% mental. And yet, how much time is spent working on the mental part of your game? Get a head start on your golf season by learning and using mental toughness training techniques that will allow you to improve your game dramatically overnight.

Why spend money on clubs promising longer drives, special putters, long distance balls or those popular gimmicks that never seem to work? Why not invest in the one thing that holds the key for your power performance? Your Mind!

"The Golf Zone" reveals proven mental techniques that golfers can use immediately to improve their performance on the links. Most golfers experience improvement the very same day after learning these powerful techniques:

Learn 3 confidence-building techniques that will make you a powerful performer under Pressure.
Use 2 powerful techniques that Tiger Woods implements to develop his unshakeable belief.
Discover 2 visualization methods used by Jack Nicklaus to win the U.S. Open.
Uncover 2 food additives found in almost every snack food that you should avoid at all costs while golfing. They assure that your brain will shut down during competition and cause you to make bad decisions.
Learn the one anchoring technique used by Fred Couples that allowed him to become the leading money winner on the pro tour in the late eighties and early nineties.
Ask yourself these questions:

Did you ever play an amazing front nine only to fall apart on the back nine? Discover 4 secrets, when put into action at the turn, will allow you to continue the momentum needed for a fantastic round.

Do you know the feeling of losing that friendly Nassau because you missed a two-foot putt? Learn 3 mental techniques that will make you a tremendous pressure putter and lower your score immediately.

Have you ever blown up on one hole and were unable to regain your composure for the rest of the round? Learn 3 relaxation techniques used by Olympic and professional athletes that produce immediate results.

Is there one particular hole you just can't master? This one powerful mental technique allows you to change this troublesome hole into your favorite one on the entire course.

The Golf Zone presentation can be conducted at customer appreciation events, sales meetings, before golf tournaments or for college or high school athletes. Anyone booking this seminar will receive a free copy of "The Golf Zone" Authored by Bruce Boguski of The Winner's Edge. This amazing product contains 2 CDs and a personal workbook.
Why Book Bruce Boguski?
There's no substitute for a person speaking from experience; Bruce Boguski in his motivational speeches encouraging others to do the impossible certainly knows what he's talking about.


For over 25 years Bruce has been tirning good organizations into great organizations through postive , proven methods. 
Bruce Boguski, author, motivational speaker, columnist, and media personality well known for his ability to inspire others to "do the impossible". Bruce holds a B.S. degree in business and education from Bowling Green State University. He also possesses a Level Two Certification in Brain Based Learning Strategies.

Bruce knows firsthand the attitude and skills required to overcome physical and mental challenges. At age 18, Bruce was partially paralyzed in an automobile accident. Although doctors warned that he might never walk again, he left the hospital a few months later under his own power. After a two-year struggle to regain full use of his body, Bruce went on to become a two-time state champion in Racquetball and played on a state championship softball team. He later served as head baseball coach and assistant football coach at Van Buren High School and the men's and women's tennis coach at The University of Findlay.

Today, Bruce is President of The Winner's Edge, a peak performance consulting firm in Findlay, Ohio. He is a nationally known presenter on motivational tactics and mental toughness training for schools, sports and business professionals, using high-energy, interactive techniques to inspire and delight his audiences.

Bruce speaks to educators, parents, students, athletes, and business professionals and has conducted over 2200 presentations over the past 27 years. Bruce has addressed virtually every group imaginable at dinner meetings, school assemblies, conferences, seminars, and clinics.