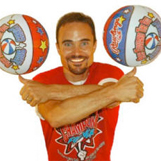 Bruce Crevier
Four Time Guinness World Record Holder
Traveling From
South Dakota
X
Program Descriptions
Champions Forever!
Bruce's programs and messages to the youth and adults are helping to repair a whole generation, and will have a positive impact on anyone no matter the age. His messages are based on the theme that Champions are not born, but are made one positive decision at a time. By your choices, you have the ability to take your life to the next level, and with God's help, you can be a CHAMPION not for the moment, but FOREVER!!
Bruce Crevier grew up in rural South Dakota and is the eleventh of twelve children!
Being second to the youngest in an athletic family, Bruce was inspired at an early age to become a great athlete. From his youth, he had either a basketball or a football in his hand, and would practice daily for hours at a time.
Bruce learned to spin the ball from Tanya his older sister, who learned how to spin the basketball from their older brothers, Maurice and Marc. This led Bruce to practice his basketball handling and spinning at seven years old. It was because of the inspiration of his older sister Tanya that Bruce does what he does today! Bruce had to overcome many obstacles to compete in sports. He was the youngest and the smallest of his five older brothers, and what he lacked in talent and size he tried to make up for it by practice and hard work. At 5'9" tall, in a sport made for Giants, the practice paid off, for in high school, he was able to letter in three sports, and like his four older brothers, became a first team All-State football player. He was riding high after high school, and he thought that he would continue with his success!
Bruce had a goal to play College basketball! So he walked on and made the team at the University of South Dakota his first year, but the second year did not fit into the coaches plans. At the beginning of his second season, Bruce was cut from the team! The college basketball dream faded, but the hope of making his mark was still there.
Bruce found that the preparation of practicing with the basketballs has met with opportunity and has come full circle—for today—Bruce is married to his wife Diane, and they have ten children. He has traveled all over the world (to over thirty-five countries) performing & sharing a message of hope to this generation. Bruce uses his basketball talent as an open door to the hearts of youth and adults all across the world.
What do you get when you package an exciting program with a life changing message? You get a "Spin-tacular Basketball Show", where youth and adults listen! Bruce has appeared and spoken in over a thousand public venues including schools - elementary through college, churches, youth groups, civic groups, special event fund raisers, High School, College, & NBA Halftime shows, etc. Bruce has appeared on numerous television shows.
Bruce is a "Four Time Guinness World Record Holder" for spinning the most basketballs at one time, and has spun as may as twenty-one basketballs simultaneously! Bruce also broke the endurance record for spinning one ball the longest time. Three of these world records were broken on live national television in front of millions of people.
Bruce uses his basketball skill, humor and fun, as a platform to inspire and challenge his listeners to "WIN" where it really counts, in the "Game of Life."