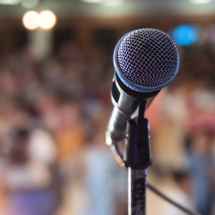 Bryan Clay
2008 Olympic Decathlon Gold Medalist
Traveling From
California
X
Program Descriptions
Success: It's the Journey, not the Outcome
Through his troubled childhood as a fist-fighting, drug-using, presuicidal kid in Hawaii, and as a college student-athlete with little direction in life, Bryan speaks to the difficulties he experienced on his unlikely path to Olympic Gold. He stresses that if one is always focused on just the outcome, and they do not achieve that, they will live an unfulfilled life. Bryan stresses that the lessons he's learned throughout his journey have been far more valuable than the outcomes.

Life Balance: Faith, Family, then Everything Else
Bryan discusses his priorities in life and how balance and order, with his faith at the forefront, allows everything to fall into place as it should. Moreover, he shares how clarity in these priorities allows him to stay grounded and avoid the added stress of life. His unwavering allegiance to Christ and dedication as a father and husband is where he draws his strength to stay mentally, physically, and emotionally sound for his athletics.
The 2008 Olympic Gold Medalist in the decathlon, Bryan Clay joined an exclusive group of American decathletes who earned the title of "World's Greatest Athlete," including Jim Thorpe, Dan O'Brien and Bruce Jenner. Following the 2008 Beijing Olympics, Bryan had the rare honor of being featured on the cover of Wheaties.

In his home state of Hawaii, Bryan is a household name and one of the most recognizable athlete celebrities. After the 2008 Olympics, Bryan was deemed "Hawaii's Hero" by the media.

Founded in 2005, The Bryan Clay Foundation focuses on "Building Champions and Changing Lives." The BCF's mission is "to make a positive impact on today's youth by helping motivate them and empower those around them with the opportunities and tools necessary to maximize their the youths' full potential."

Bryan also recently authored "Redemption," which tells the story of his unlikely path to Olympic Gold. By the grace of God, Bryan went from being a fist-fighting, drug-using, presuicidal kid in Hawaii to world champion in the toughest Olympic sport. His secret? A dramatically rediscovered faith and his mother's relentless prayers.