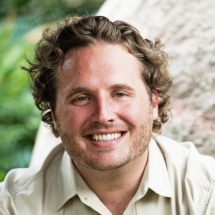 Caleb Harper
Pioneer in the Exploration & Development of the Future of Food; Innovator of Open-Source, Urban Agriculture; Founder & Director, OpenAG Initiative, MIT Media Lab
Traveling From
Massachusetts
X
Program Descriptions
Hacking Agriculture: Hunger, Health & The Future of Food
Today's world has been revolutionized by technologies that are increasingly connected, networked and accessible to the masses. In stark contrast, agricultural production is still constrained by industrial-era economics. Caleb Harper is driving a paradigm shift from the industrial to the networked age of agricultural production. He believes this is the key to democratizing food production and empowering people to take back control over what they are eating and where it's coming from.

Harper discusses the global food crisis and how his "Food Computer" – a technology that serves as a shared, hackable platform using robotic systems to control and monitor climate, energy and plant growth indoors – is already revolutionizing the future of farming. He paints a picture of his vision for a digital world farm and describes its ecological, environmental, economic and societal implications. His mission is one everyone can get behind, from businesses to investors, educators, researchers and chefs.

"Making agricultural practices radically transparent will improve access to fresh, nutritious foods, reduce food spoilage and food waste, and create local and global communities that are built on a shared platform and shared data." Food is everybody's business – and Harper explains why.
Caleb Harper is the founder of the CityFARM research group within the City Science Initiative at the MIT Media Lab. He leads the anti-disciplinary group of engineers, architects, urban planners, economists and plant scientists in the exploration and development of high performance urban agricultural systems. His current work focuses on the areas of building integrated with control environment agriculture, actuated sensing, control automation and data-driven resource and energy optimization.

Caleb has recently launched the OpenAG project, bringing together partners from industry, government and academia to develop the world's first open source "AG Tech" research collective for the creation of the global agricultural data commons.

In addition to his role at MIT, Caleb is a consultant to multiple international development agencies on high-density low-income urban housing projects and has worked professionally on development projects in the high tech space including data centers, healthcare and fab facilities.

Caleb holds a Masters from MIT, and Bachelors from Washington University in St. Louis and Baylor University and is deeply committed to the future of urban food and housing research at MIT.